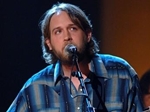 Producing some stellar, if not downright seminal, works can be a real pain for an artist. Ask Lucinda Williams what's it been like to answer questions about why each of her albums can't be Car Wheels on a Gravel Road? Ryan Adams has tried for years to overcome the "Where's the next Heartbreaker?" stigma. Classic albums bring about Herculean expectations.
While Texan, and Lost Highway artist, Hayes Carll has yet to fully reach the heights of the aforementioned alt-country heroes, he isn't far from the top at this juncture. This much is surely the case after the release of his dependably solid, if unspectacular, KMAG YOYO. That sounds bad, but it's not, really. Spectacular work isn't common, yet Carll has seemingly made the uncommon a regular occurrence for himself over the years.
Just as it is when David Ortiz has a subpar year of "only 28 homers", it's still a banner season for just about any other big-leaguer, For Carll, producing an album that doesn't exactly make us forget about his superb Trouble in Mind, or even his indie-breakthrough, Little Rock, only means that he has set the bar supremely high and that simply reaching that bar, while still quite a feat, doesn't really get the job done in the grand scheme when it comes to some folks, but hey, this is still an album that will rightfully find it's place enar the top of many year-end lists.
Look, the album is worth your time, promise. And, if anything, this is the album where Carll really asserts himself and makes it even more difficult for folks to continue to lump him into the stale "Texas-artist" category or make the same comparisons to Guy Clark and Ray Wylie Hubbard, yet again. Sure, those influences are present, as they should be, but there's also hints of Subterranean Dylan with the title track, and early 1980's Haggard with "Chances Are." making it even tougher to back Carll into a stylistic corner, he uses the same wit that was shockingly present with his biting "She Left Me For Jesus" to produce a white-trash gem of a duet with "Another Like You." The male/female duet number takes the Gram/Emmylou dynamic and shoves easy-cheese down its drunken pie-hole while dousing it in fuzzy-navel wine cooler.
Like I said. Maybe the album isn't his best, but it surely would be a career, life changing work for just about any other would-be troubadour.
---
About the author:
I likes me some wine, women and waffles, not always in that order (but usually). Chaucer is cool, but fart jokes are even better. You feel like spikin' your country with a little soul or mix in a little rock without the roll? Lemme hear from ya!!
---