ALBUMS OF THE MONTH:
Heart of a Dog, by Kasey Anderson and the Honkies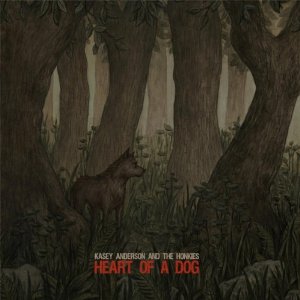 If last year's Nowhere Nights stood out for the down-tempo songs, this time it's all about the rockers. "Kasey Anderson's Dream" and "Revisionist History Blues" are driven by heavy classic blues rock guitar riffs while "My Baby's a Wrecking Ball" and "Sirens and Thunder" are barn-burners of epic proportion. "I'd been anointed by the saints of the disappointed, I was a little disjointed but hey, at least I was proud," he proclaims on "Sirens and Thunder."
"Mercy" could be the tale of a one-night stand or the beginning of a relationship. "You're either ready for the righteous or you're headed underground," spews Anderson as the interplay of electric guitar, piano, organ and horns make for a rousing rocker that, not surprisingly, mixes a touch of gospel flair with a roadhouse rocker.
When he does slow things down a bit, as on "Exit Ghost," it is only for a short while before building into a stirring anthem. And that speaks volumes about Anderson's talents as a songwriter – his songs overflow with an intensity that is enthralling.
Audio Download: Kasey Anderson and the Honkies, "Mercy"

Audio clip: Adobe Flash Player (version 9 or above) is required to play this audio clip. Download the latest version here. You also need to have JavaScript enabled in your browser.
Hard Times and Nursery Rhymes, by Social Distortion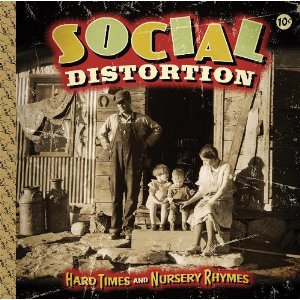 I've got a running commentary with a friend that there are certain days just made for Social Distortion. Sometimes it is a day where the frustration reaches an overwhelming peak, other times it is a day when things go even better than planned. It says a lot that a single band can serve so well at both ends of the spectrum, and Hard Times and Nursery Rhymes adds further proof. "Can't Take It With You" is perfect for the former situation, drenched in attitude propelled by angry guitars. Lyrically, Ness helps put things into perspective, "All your money, your hard-earned pay, it don't mean shit, babe, at the end of the day." "Diamonds in the Rough" hits the latter point, with spectacular harmonies shines across the electric guitars while Ness sings, "You're dirty and you're damaged, all you need's a little love."
Album closer "Still Alive" sums it all up in classic Ness fashion. "And the times have changed my friend, I'll be here to the bitter end, and I'm here to make my stand with a guitar in my hand." Hard Times and Nursery Rhymes doesn't stray from the Social Distortion playbook, and that's what makes it a great listen on days good and bad.
Audio Download: Social Distortion, "Machine Gun Blues"

Audio clip: Adobe Flash Player (version 9 or above) is required to play this audio clip. Download the latest version here. You also need to have JavaScript enabled in your browser.
THE PLAYLIST:

Bulletproof Heart, Greg Trooper (from the self-released Upside-Down Town)
Trooper has firmly established himself as a songwriter's songwriter, a reputation only strengthened with his latest release. The relaxed musical feel can't disguise the painful tale of a woman whose husband and children, all soldiers, are taken from her in war. "Mama, your love's so strong, you gave us the power to carry on; Mama, you've been blown apart, did God think you had a bulletproof heart."
Audio Download: Greg Trooper, "Bulletproof Heart"

Audio clip: Adobe Flash Player (version 9 or above) is required to play this audio clip. Download the latest version here. You also need to have JavaScript enabled in your browser.
Airplane, Jon Dee Graham (from the self-released Chupacabra)
A highlight of every trip to Austin for SXSW is catching a Jon Dee Graham live set. While it is always hard to fully capture the energy of a live performance, this album is a good start. This track has always been a favorite, a colorful Graham nearly spoken-word storytelling punctuated by a musical daydream chorus.
Any guess on what a "chupacabra" is? Literally "goat sucker," it is an animal the size of a small bear. Rumored to exist, there has never been a confirmed sighting. I have no idea of its significance as the album title. Care to explain, Jon Dee?
(Note: Graham is offering Chupacabra as a pay-what-you-like release. Info here.)
Audio Download: Jon Dee Graham, "Airplane"

Audio clip: Adobe Flash Player (version 9 or above) is required to play this audio clip. Download the latest version here. You also need to have JavaScript enabled in your browser.
The Understanding, Jones Street Station
The Brooklyn quartet marry brilliant harmonies with stirring songwriting. The additional of a trumpet to their roots-based arrangements gives this song a regal feel reminiscent of Calexico. Looking forward to the new album, boys.
Audio Download: Jones Street Station, "The Understanding"

Audio clip: Adobe Flash Player (version 9 or above) is required to play this audio clip. Download the latest version here. You also need to have JavaScript enabled in your browser.
You Get a Love Song, Lori McKenna (from the Signature Sounds recording Lorraine)
McKenna's tale – a suburban mother of five who packs guitar cases into her family mini-van – has oft been told. It's her songs, however, that are the real story. McKenna writes slice of life songs that mix strength with vulnerability. This track is a great example, a matter-of-fact reflection on marrying young and a tender thank-you to her husband for supporting her pursuit of a musical dream.
Your Lonely Heart, Carrie Rodriguez and Ben Kyle (from the Ninth Street Opus release We Still Love Our Country)
It'd be easy to write about the impressive covers on this release. From "Love Hurts" to "If I Needed You" to "Unwed Fathers," Rodriguez and Kyle weave their voices around some beautiful songs. I keep coming back to this track, however, an original composition that showcases the range of their talents. From its nearly a cappella introduction it shifts quickly into a more upbeat tempo highlighted by steel guitar and Rodriguez's fiddle. (See Shawn's full review here.)
Audio Download: Carrie Rodriguez and Ben Kyle, "Your Lonely Heart"

Audio clip: Adobe Flash Player (version 9 or above) is required to play this audio clip. Download the latest version here. You also need to have JavaScript enabled in your browser.
Party Dolls and Wine, Eddie Spaghetti (from the Bloodshot Records release Sundowner)
Supersuckers front-man Eddie Spaghetti brings his oversized personality to the Red Steagall classic further immortalized by Dean Martin. "They say that someday I'll meet my match but until that time down the hatch…"
June Hymn, The Decemberists (from the Capitol Records release The King Is Dead)
I was all set to highlight "Down By the Water," the brilliant folk rocker from the Decemberists latest when I was struck by the sense of longing in this acoustic ballad. Both songs feature Gillian Welch on vocals, just icing on the cake of Colin Meloy's superb songwriting.
Sick of You, Cake (from the Upbeat Records release Showroom of Compassion)
And another for my on-going playlist of kiss-of songs… "Everything you find that at first seems to shine, always turns into the same old grind… I'm so sick of you, so sick of me, I don't want to be with you."
Cry, Cry, Cry, Nicole Atkins (from the Razor & Tie release Mondo Amore)
Atkins gets gruff on her latest release, filling it with bluesy riffs and psychedelic shadows. Except maybe this track, which gives a contemporary sheen to a spirited 1960's-style pop song.
FROM THE ARCHIVES:
Nickels on the Dime, Fourkiller Flats
So I recent made the jump from PC to Mac at home. Overall a positive experience, save for a painful iTunes migration. The silver lining is that I got to re-visit my "back catalogue." Let's just say that I'm rockin' it with some long lost classics, including this gem from the Tuscon, Arizona's Fourkiller Flats.
Audio Download: Fourkiller Flats, "Nickels on the Dime"

Audio clip: Adobe Flash Player (version 9 or above) is required to play this audio clip. Download the latest version here. You also need to have JavaScript enabled in your browser.
---
About the author:
Mild-mannered corporate executive by day, excitable Twangville denizen by night.
---