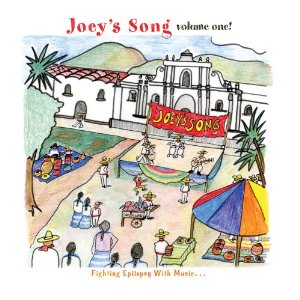 I've always taken a mixed view of benefit compilations. Yet there's something special about this one. On first listen I was immediately struck by the consistent feel of the song selection. Every track is heartfelt and uplifting, undoubtedly reflecting the spirit of Joey Gomoll, the young boy who inspired this collection.
Among my favorite tracks are the demos from Tracy Bonham, Michael McDermott and Del Amitri. They are distinctive in that they hardly feel like demos. McDermott's "Carry Your Cross" is so achingly beautiful that one can't imagine it being improved in subsequent performances. Tracey Bonham's acoustic demo of "All Thumbs" has a charming late-night feel to it, an equal to the full studio version. And any new track from the late, great Del Amitri is cause to celebrate.
The live tracks are impressive in their own rite. Mike Viola's "Hang On Mike," ironically, has a home demo feel to it. Robbie Fulk's take on Bob Dylan's "I Believe In You" is chilling while the mid-song banter from Crash Test Dummies during their live performance of "Mmmm Mmmm Mmmm Mmmm" is a pleasant reminder of the band's endearing quirkiness. Daddy (Tommy Womack and the mighty Will Kimbrough) tear it up on the acoustic guitar-picking throwndown "Wash and Fold."
Other stand-outs include Ed Harcourt's soothing "The Sweetest Sound of All," Tim Easton's cheerful "In Love With You" and Thea Gilmore's breathtaking "The Difference."
Audio Download: Thea Gilmore, "The Difference"

Audio clip: Adobe Flash Player (version 9 or above) is required to play this audio clip. Download the latest version here. You also need to have JavaScript enabled in your browser.
A second accompanying release is perhaps a stronger tribute to Joey. Artists ranging from Matthew Ryan to Steve Forbert to Steve Wynn to Jon Dee Graham offer up a full spectrum of children's music. Forbert's acoustic troubadour voice sets the perfect tone for the classic "Puff the Magic Dragon" while Lowen & Novarro give "The Wheels on the Bus" an acoustic swagger that nearly makes one forget that it is a simple children's song.
The Band of Blacky Ranchette (Howe Gelb) and Matthew Ryan bring an indie rock feel to their takes on the traditional "Working On the Railroad" and "You Are My Sunshine," respectively.
Not to be outshone, a triumvirate of wonderful originals are provided by Ellis Paul ("Mr. Teetot"), Steve Wynn ("Monkeys") and Jon Dee Graham ("Hippopotamus")
And the best part of all? There are another 50-odd tracks in the queue for future volumes. I, for one, eagerly await the next set.
About the The Joseph Gomoll Foundation

The Joseph Gomoll Foundation is setup as a Tribute to honor our son and brother, Joseph Martin Gomoll. Joey passed away unexpectedly on March 30, 2010. Joey was afflicted with Dravet's Syndrome, a rare form of epilepsy his entire life. While Joey was alive the doctors were never able to get his seizures completely under control.

Dravet's robbed Joey of most of the ability to speak, but it did not stop him from communicating with everyone he met – no one that knew Joey will ever be able to hear "Hi, How Are Ya?" without smiling – and it most certainly never prevented him from laughing, smiling, singing or dancing.

The Joseph Gomoll Foundation is setup to raise money in support of the Epilepsy Foundation. Our goal is to raise money that can be used for research, treatment and support of those affected by this terrible disease. A small portion of the money raised will also go to the Early Childhood program in Joey's hometown to provide education and services for children with special needs, like Joey.
---
About the author:
Mild-mannered corporate executive by day, excitable Twangville denizen by night.
---