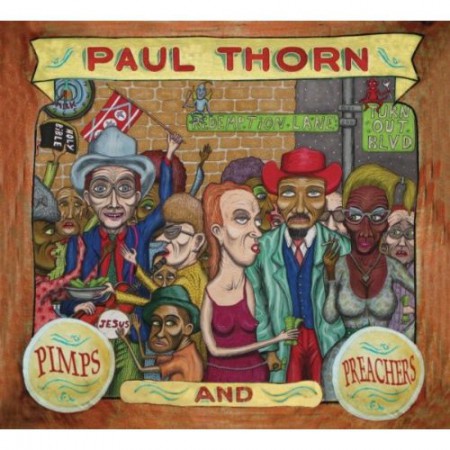 Twangville readers rallied to give Paul Thorn's 'Pimps and Preachers' an overwhelming victory for album of the year. An interesting fact about the album is that Thorn himself painted the album cover. He painted the preacher to be his father and the pimp to be his uncle. You don't have to look much further to figure out the underlying theme of this album is the struggle between the good and evil pulls of life as we know it. Look further into the painting and you'll find Thorn depicted as the little boy. Perhaps, it's the boy in all of us he sings about. Regardless, Twangville readers don't lie. Pick up 'Pimps and Preachers' if you haven't already.
#1. PAUL THORN, Pimps and Preachers (411)
#2. JUSTIN TOWNES EARLE, Harlem River Blues (33)
#3. JOE PUG, Messenger (15)
#3. DRIVE-BY TRUCKERS, The Big To-Do (15)
#3. RAY LAMONTAGNE, God Willin' & The Creek Don't Rise (15)
#6. BRUCE SPRINGSTEEN, The Promise (13)
#7. ALEJANDRO ESCOVEDO, Street Songs of Love (11)
#8. PETER WOLF, Midnight Souvenirs (10)
#9. JJ GREY, Georgia Warhorse (9)
#10. JOHN HIATT, The Open Road (8)
#10. OLD 97S, The Grand Theatre Volume One (8)
#12. RECKLESS KELLY, Somewhere in Time (7)
#12. MATTHEW RYAN, Dear Lover (The Acoustic Version) (7)
#12. GASLIGHT ANTHEM, American Slang (7)
#15. JOSH RITTER, So Runs The World Away (6)
#15. JOHN PRINE, In Person & On Stage (6)
#15. RAUL MALO, Sinners & Saints (6)
#15. TWO COW GARAGE, Sweet Saint Me (6)
#16. GRACE POTTER AND THE NOCTURNALS, Grace Potter and the Nocturnals (5)
#17. CRAZY HEART, soundtrack (4)
#17. PATTY GRIFFIN, Downtown Church (4)
#17. GLOSSARY, Feral Fire (4)
#17. BACKYARD TIRE FIRE, Good to Be (4)
#17. CARRIE RODRIGUEZ, Love And Circumstance (4)
#17. VARIOUS ARTISTS, Broken Hearts & Dirty Windows: Songs Of John Prine (4)
Paul Thorn performs "That's Life"
Bonus Giveaway
If you've made it this far we salute you. As a thank you to our readers for voting in our Readers' Pick each and every week we have one signed Chris Knight CD and one Bleu CD to randomly give away to two lucky Twangville commenters. All you have to do is comment on this post with your prediction for best album of NEXT year. All entries before Jan 9, 2011 at midnight EST will be eligible. Remember to include your email address so that we know how to contact you. We promise not to use it for anything else.
---
About the author:
Washington, D.C. area web designer by day. Music is my muse. I host Twangville's weekly Readers' Pick.
---