You might think that an alt-country singer from the 80s and 90s playing an acoustic set would be tame. You might think that it'd be soft and gentle with some strumming and fingerpicking. But if you did, you don't know Cary Hudson and his "dirty blues" and "nasty swing." At 45, Cary may use the axe a bit less on tape, but he still uses it and and uses it well.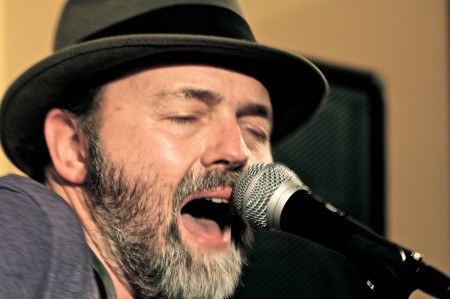 If you were listening to the show from across the street, or next door it'd be easy to think that there was an obnoxious band with their three guitarists. But really, it's just Cary. One of his catchiest guitar riffs on either  came on the track "Free State of Jones." Hudson, with his dog in tow, described the residents of Jones County in the "Free Sate of Jones" in Mississippi who had no interest in slavery during the war. They then allegedly seceded. Hudson then tore into the song and the roots rocker needed no one else to make the floor boards shake.
Hudson was also quite collegial with the crowd at the down home Treehouse in Takoma Park, Md. He asked for requests, mentioned his fans who'd traveled from far away (Pennsylvania and West Virginia) and even had a running conversation with his little Jack Russell Alvin. Hudson gladly obliged the crowd with Blue Mountain favorites "Wink" and "Myrna Lee." Both of which sounded different without Laurie Stirratt's harmonies, but still quite full with Hudson's unencumbered voice. "Soul Sister" rocked out with the best of em.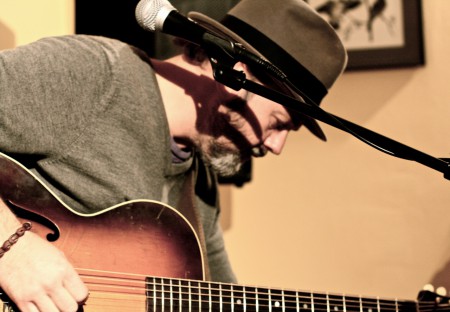 When he took a break in the middle of the show, it really felt like a gathering among friends. Cary joined the crowd for a beer and some conversation and the Treehouse was about the only place I've seen that happen. For those who appreciate the contribution of Hudson, the opportunity was quite amazing. And Hudson was completely down to earth and approachable. Throughout the show, he played tunes from his three solo records and his self-funded album "Seems to Me" slated to come out in a few weeks in addition to the Blue Mountain requests.
Hudson, though grizzled and gray, still had the rough edges that made him an alt-country pioneer. Even though he's a solo artist now, the raw energy, electric guitar skills and slide mastery made the show a rarity. A guy who effortlessly combines rock, blues and country is certainly somethin' to see.
Photos by Suzanne Davis
---
About the author:
Jeff is a teacher in the Boston area. When not buried correcting papers, Jeff can be found plucking various stringed instruments and listening to all types of americana music.
---