"Everybody loves you when you don't give a damn." That line, from Don't Give A Damn off Peter Himmelman's latest release, The Mystery and the Hum, seems to summarize the philosophy of many of the songs in the collection. Not literally that he doesn't care about anything, but more about the exploration of what motivates people. And it makes for for a fun ride of mental voyeurism through an interesting collection of characters.
The album starts off with Motel Room In Davenport, a foot-tapping rock and roll ditty that talks about working on an inspiration you can't get in L.A. He also manages to tie in thinking about god and not having cable TV. I found a similar line of reasoning in Georgia Clay, which talks about trading in the glitz of the city for the comfort of a homestead, and notes "ambition is a young man's game". There are also some live-in-the-moment musings, like Windshield Reflections where "I'm using all my horsepower to get back to you", and Trembling In the Beams about the melancholy in an old house.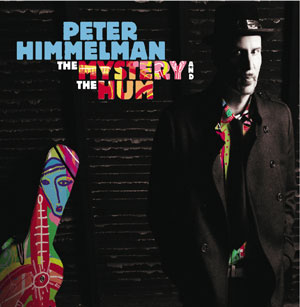 Musically the album is solid singer-songwriter, guitar driven stuff, with a couple of good detours. There's the aforementioned Trembling In the Beams that's a nice piano ballad. And at the other end of the spectrum is Good Luck Charm that carries a hint of the Beastie Boys. In between is some good roots rock material like The Heart Of the Midnight Sun that's just relentless in the driving guitar and drums.
Although it won't surprise any long-time Peter Himmelman listeners, this is music for people who appreciate a more intellectual approach to their lyrics. You're just not going to hear anyone singing along with one of these tunes at the Friday night kegger. There's quite a ride here and it takes a little work to keep up, but you're rewarded with a rich textual collection of music and words that support why Himmelman has such a large and loyal base of fans.
---
About the author:
I've actually driven from Tehatchapee to Tonopah. And I've seen Dallas from a DC-9 at night.
---