To hear about a band being "green" in today's society seems like another gimmick. We have whole foods, organic produce, carbon footprints and alternative energy bombarding us from all action. As a music fan, I like to listen to my music to unplug and hear the "organic" side for a while.
But Todd and Eric Fink have ruined my blissful ignorance. No, they haven't written lyrics about restoring ponds, but rather they've managed to do it the "right way." They've made a Carbon neutral album. But the beauty of the record is that it's environmentally conscious without being holier than thou. The songs, fleshed out by an 8-piece ensemble, drip with authentic folk/country string-band touches on "The Joke, The Threat & The Obvious."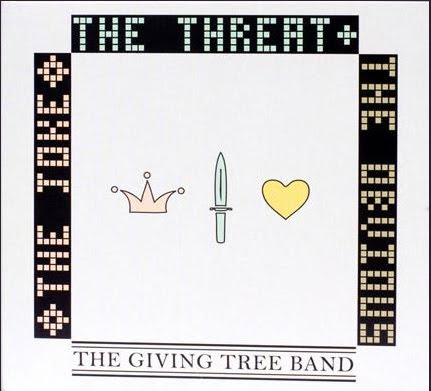 The rousing "Caged Lion" is an immediate standout. The resophonic guitar and fiddle interplay in this song truly gives me goosebumps. You can't help but nod your head to the beautiful group harmonies and double bass. "And in these hard hard times / Lies deep and dark like an old coal mine." The lyrics truly embody the spirit of Appalachia.
The track "Circles" has an even more refined and singable chorus (accentuated perfectly by banjo lines). It's a piece of melodic country-folk perfectly melded with classical (strings only emphasize emotions). "Moonlight Lady" is an upbeat country number that sounds like it was secretly recorded at a great Nashville bar. It's got lots of chops and a singable chorus as well.
With any CD that has 15 tracks and almost an hour's worth of material, some filler has to find it's way in there. The Giving Tree has managed to really stay consistent with the upbeat numbers. Nestled right in the middle, track "Diamond" emphasizes the lush arrangements at a slower pace. It lacks the head nodding enthusiasm of their other tracks.
While string bands often lack the energy on tape, the Giving Tree and their green practices have somehow bucked that trend. The Fink brothers have a hit upon something: the blend of harmonies, fiddle and songwriting. It comes out on September 21.
---
About the author:
Jeff is a teacher in the Boston area. When not buried correcting papers, Jeff can be found plucking various stringed instruments and listening to all types of americana music.
---