Sometimes you just can't make this stuff up. There we were, all 1800 of us, singing along with Joan Baez, that darling of the counterculture, "We don't let our hair grow long and shaggy, like the hippies out in San Francisco do. And I'm proud to be an Okie from Muskogee." The occasion was the Merle Haggard show, with opener Kris Kristofferson, at the Mountain Winery, about 30 miles south of San Francisco.
Kristofferson started the show with a solo set, just him with a guitar and harmonica. With a cadence that changed little from song to song, and voice that's at best gravelly, there was nonetheless a purity to listening to Kristofferson sing his own songs that transcended the delivery. It's like seeing Monet paint or Michelangelo sculpt. Although he kept apologizing for his performance and reminding people "the good show is coming up next", many in the audience were there primarily to see him. (And a few sorry souls left before Haggard came on.) The set list was mostly Kristofferson classics, with one song from the newest album that I didn't get the title. For the encore, Kris was joined on stage by John Prine and Joan Baez, and they did a couple of Prine songs, The Late John Garfield Blues and Hello In There.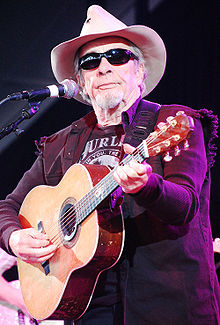 After a short intermission, Merle Haggard took the stage with his long-time band The Strangers. From purely a performance standpoint, the contrast could hardly have been greater. While Kristofferson was the epitome of plain and simple, Haggard and his band put on a show. I was somewhat surprised at how strong Haggard's voice was and the power of his stage presence given his bout with cancer a couple of years ago. This is a man who still commands attention on stage. Not surprisingly, the majority of the set list was made up of hits, but there were two or three songs from I Am What I Am, and they stood up well to the classics. Finally, the show ended with the aforementioned Okie From Muskogee and Why Me. In addition to Baez, Kristofferson and Prine also joined in on those last two songs.
Like the former biker in front of me wearing his Hell's Angels colors over a clean white dress shirt and freshly pressed jeans, and the Google millionaires behind me, there was an interesting juxtaposition to this show. Haggard and Kristofferson were some of the original outlaws in the music business. Through force of talent, though, they've dragged the mainstream closer to them and have a string of time-honored songs that brought them respectability I doubt they ever tried for.
Merle Haggard image courtesy of Wikipedia
---
About the author:
I've actually driven from Tehatchapee to Tonopah. And I've seen Dallas from a DC-9 at night.
---