Nobody can accuse Guy Davis of being wishy washy. He says and sings what he thinks no matter the consequences.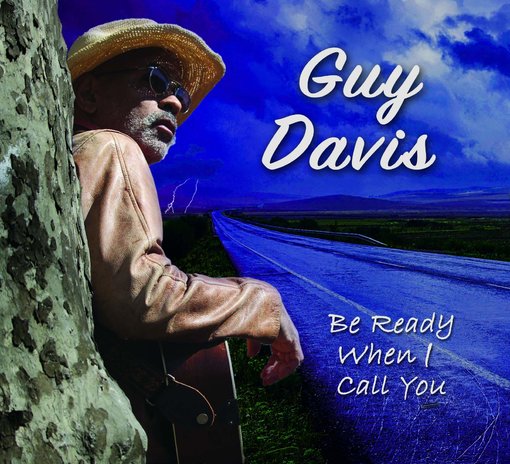 Yes, Be Ready When I Call You may be Guy Davis' most political album yet. On it, he sings about the Tulsa race massacre of 1921 ("God's Gonna Make Things Over"), Flint Michigan's drinking water issues ("Flint River Blues"), the struggle of Palestinians ("Palestine Oh Palestine"), and he ends the album with "Welcome to My World," which erases any question about what he thinks of our recent former president. Clearly, Davis is not afraid to take a stand even if it risks alienating some of his potential audience. But for those of us who enjoy listening to music that says it like it is, the album is a great listen. And musically, it's on a par with his best work. You can check out a live version of the title song below.
Davis, the son of African-American entertainment royalty, actors Ossie Davis and Ruby Dee, despite his New York City background embraced a predominantly country-blues expression echoing Mississippi John Hurt and John Lee Hooker. His buoyant personality and his talent on acoustic guitar, banjo and harmonica shine through on his recordings and in his performances. His clever song-writing and refreshing takes on others' compositions can be heard on albums like Stomp Down the Rider (1995), Butt Naked Free (2000), Give in Kind (2002), Chocolate to the Bone (2003) and Skunkmello (2006). In 2008, Davis joined Otis Taylor and several of the other blues vanguard on Taylor's project, Recapturing the Banjo, which provided a platform to feature the banjo – which originated in West Africa – in various African-American music forms from ragtime to rock. I selected his 2015 release, Kokomo Kidd, as one of the best blues albums that year, and his 2017 collaboration with blues harp specialist Fabrizio Poggi, Sonny and Brownie's Last Train, was a masterpiece.
---
About the author:
Bill Wilcox is a roots music enthusiast recently relocated from the Washington, DC area to Philadelphia, PA and back again.
---