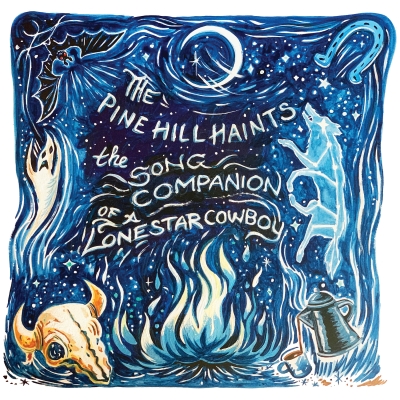 When you have been traversing your region of the country as a band of troubadours for over twenty years you can't be called an overnight success. However, they have been successful none the less. Now finally the band as delivered an album that should be their breakout to a wider audience. On the new album "The Song Companion of a Lonestar Cowboy", the band exhibits flexibility as they move among styles to grab the listener by the collar. They call their music Alabama Ghost Music. What that means in practicality is a meshing of Rockabilly, Front Porch Stomp, Blues, Irish Folk and Country delivered with haunting overtones. The word "haint," of archaic English origin, means to haunt or to inhabit aggressively with a medium-like connection. Add to the lore the fact that the band claims to have been formed in a cemetery. The Pine Hill Cemetery to be more specific. All of this is delivered with the ethos of Punk Rock, from which the band was spawned.
After self-releasing for years, this time around they teamed up with Single Lock Records, owned by John Paul White and Alabama Shakes' Ben Tanner. The album is mostly original songs by founder/leader Jamie Barrier, in addition to multiple interpretations of traditional folk, blues, and gospel tunes. Many ghosts inhabit this album. Some famous ones too. John Henry, Billy the Kid and my personal favorite Satchel Paige. For those who don't know his story Satchel Paige was a legendary pitcher in the Negro League. As all Negro Leaguers he was denied the opportunity to play in the Major Leagues until Jackie Robinson broke the color barrier. Satchel finally got his chance with the Cleveland Indians, but late in his life when he could only be a relief pitcher (However, he was dominant none the less.) "Satchel Paige Blues" is my favorite song on the album. These ghosts will haunt you also. In a good way. So please give "The Song Companion of a Lonestar Cowboy" a listen.
---
About the author:
Chip and his family live in Birmingham, AL. Roll Tide!
---