Like Elvin Bishop and John Oates, Maria Muldaur is a musician who who had enormous popular success decades ago that allow her to explore musical expression on exactly her own terms. And, also like Bishop and Oates, she has established herself as an important figure in the blues and roots music scene.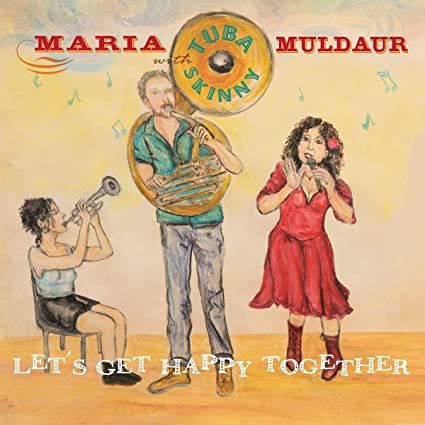 Both a blessing and a curse, Muldaur is destined to be known to much of the world as the woman who sang the iconic 70s pop song "Midnight at the Oasis." But she has done so much since then as her early success has allowed her to focus on less lucrative roots genres, including blues, jazz and country music, releasing dozens of albums. Her excellent 2001 blues album, Richland Woman Blues, showed that she belonged among the leading blues vocalists. Her 2012 album, … First Came Memphis Minnie (on which she collaborated with Rory Block, Ruthie Foster, Bonnie Raitt, Phoebe Snow and Koko Taylor, along with David Bromberg, Alvin Youngblood Hart, Del Rey, Steve Freund, Steve James and Roy Rogers) was a fitting testament to the greatness of the early blues master.
To best describe Let's Get Happy Together, ragtime might be the best label. But the collection, with the rousing accompaniment from the Tuba Skinny band (Shay Cohn, Todd Burdick, Barnabus Jones, Jason Lawrence, Craig Flory, Greg Sherman, Max Bien-Kahn, and Robin Rapuzzi), is a compelling throwback to a simpler time. From the first saucy notes on "I Like You Best of All," the music plunges into songs fitting for riverboats or jazz halls around the turn of the 20th century. Among the highlights are the rolling "Got the South in my Soul" and "Big City Blues."
---
About the author:
Bill Wilcox is a roots music enthusiast recently relocated from the Washington, DC area to Philadelphia, PA and back again.
---