Ronnie Earl is has long been regarded as being among the best blues guitarists alive today, having won the Blues Music Award for "Guitar Player of the Year" four times. But Earl is also an earnest cheerleader for advancement of the human condition. Rise Up effectively lashes his interests in social justice with great music.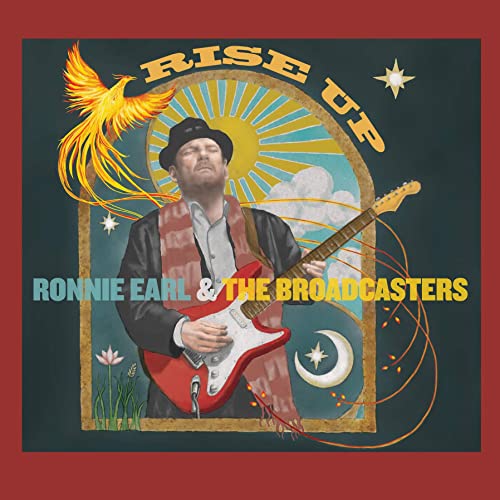 The son of two Holocaust survivors, Earl was born Ronald Horvath in Queens, New York, but made his home in the Boston area since finishing college at BU in the 1970s. In 1979, he replaced Duke Robillard as lead guitar in the jump blues band Roomful of Blues. He took his stage name to honor Earl Hooker, an important influence. He stayed with Roomful of Blues for most of a decade before forming the Broadcasters, named after the original name of the earliest telecasters guitar (though Earl generally plays a strat).
Over the years, Earl created a rich body of great music. Check out 1996′s Grateful Heart: Blues and Ballads to hear the Broadcasters' jazzier side, or 1994′s Still River, The Colour of Love from 1997, Now My Soul from 2004, or Hope Radio from 2007 to hear the jazz-blues blend more typical of Earl and the Broadcasters. Earl has also collaborated on a couple excellent projects, including Eye to Eye in 1996, on which he worked with blues legends Pinetop Perkins (piano), Willie "Big Eyes" Smith (drums), and Calvin Jones (bass); and The Duke Meets the Earl in 2005, the ultimate collaboration between the two great Roomful of Blues guitarist alumni – Earl and Duke Robillard.
As with last year's Beyond the Blue Door, the musicianship on Rise Up is impeccable. Shortly before the coronavirus pandemic shut down the world, the tracks were recorded in "Living Room Sessions" in Earl's home. But the production wasn't insulated from the world outside. Following events of late Spring and Summer, Earl christened one of the instrumental numbers "Blues for George Floyd," and recorded an experimental, talking piece, called "Black Lives Matter." The closer, "Navajo Blues," is dedicated to the Native American tribe that has suffered disproportionately from the coronavirus pandemic.
But as always, the Earl's guitar playing is clean and tight, from the traditional acoustic opener, "I Shall Not Be Moved," through the jazzy jump blues "Higher Love," and on though his homages to the friends and artists who inspired him ("Blues for Lucky Peterson," and "Talking to Mr. Bromberg" – written for the now-second most prominent resident of Wilmington, Delaware).
Earl is joined on Rise Up by the fabulous Broadcasters, including Dave Limina on keys, Diane Blue on vocals, Paul Kochanski on bass and Forrest Padgett on drums.
---
About the author:
Bill Wilcox is a roots music enthusiast recently relocated from the Washington, DC area to Philadelphia, PA and back again.
---