There are jam sessions, and then there are JAM SESSIONs. When you get blues masters Charlie Musselwhite and Alvin Youngblood Hart together with former Squirrel Nut Zipper Jimbo Mathus, North Mississippi Allstars brothers Luther and Cody Dickinson and their father Jim, you're gonna have a JAM SESSION. That's what happened in the fall of 2007, when the loose ensemble met at the late Jim Dickinson's Zebra Ranch Studio in Coldwater, Mississippi.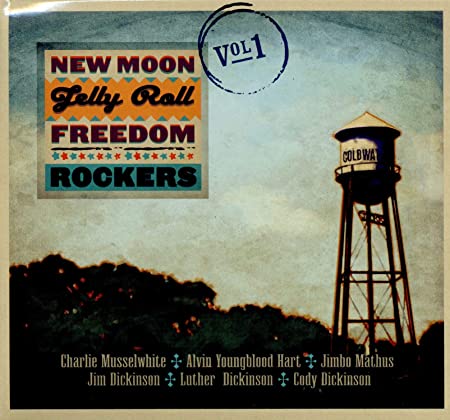 You would need to ask the Dickinsons and the others why these recordings were not released earlier, but the New Moon Jelly Roll Freedom Rockers recordings offer a timeless piece of Americana that gives us a glimpse of what great artists sound like when they get together to play for the fun of it.
One of the great blues harp players of today, Musselwhite, along with contemporaries like Paul Butterfield, was among the vanguard of white musicians who embraced the blues in the 1960s. Musselwhite, originally from Mississippi himself, revered the music and earnestly pursued excellence. In 1967, when he was only 23 and already a fixture in the Chicago blues scene, he made his first album, Stand Back! Here Comes Charlie Musselwhite's Southside Band, which is widely recognized as a classic. Through many recordings and years of hard living, Musselwhite persevered. In 1987, he hit bottom and quit drinking, inspired by the courage of "Baby Jessica" McClure, the young Texas girl who captured the nation's attention when she was trapped at the bottom of the well. (He tells the story in the song "The Well," off the 2011 album of the same name.)
Hart has staked his claim as one of the torchbearers of the blues after the great post-World War II generation that carved out a niche for "race music" in Memphis and Chicago. Originally from Oakland, California, Hart became passionate about the blues on family trips back to northern Mississippi. A gifted songwriter, Hart attracted critical acclaim with his mostly acoustic debut album, Big Mama's Door, in 1996. Since then, he recorded four more studio albums and worked on side projects. He appeared on Otis Taylor's Recapturing the Banjo in 2007 and on NMA's Keys to the Kingdom in 2011. He is also a member of jug band South Memphis String Band along Mathus and the Dickinsons.
After leaving Squirrel Nut Zippers, Mathus has had a successful solo career of his own, and the Dickinsons' NMA is legendary among younger blues rock bands. Anchoring the session session was the legendary producer Jim Dickinson, who played piano and sang on several tracks. Dickinson, about whom I once read Saturday Night Live's "More Cowbells" skit was based, was the mastermind behind classic releases from Big Star and the Replacements, among others.
The casual, eclectic mix of songs on the New Moon Jelly Roll release is reminiscent of the great Super Session in 1968, for which Al Kooper simply booked some studio time and invited Michael Bloomfield and Stephen Stills over to lay down some tracks. Among the best tracks on the New Moon Jelly Roll album are covers of Musselwhite's "Blues, Why You Worry Me," Charley Patton's "Pony Blues" (which you can listen to below), the standard "Come on Down to My House," Wilbert Harrison's "Let's Work Together," Jimi Hendrix's "Stone Free," and the Mississippi Sheiks' "Stop and Listen Blues." The album is great news for blues enthusiasts who like to hear masters whose sole motivation is to make excellent music. Better still, Vol. 2 is set for release next spring.
---
About the author:
Bill Wilcox is a roots music enthusiast recently relocated from the Washington, DC area to Philadelphia, PA and back again.
---