Everybody knows about Cheers, the bar where everyone knows your name. Apparently the recording studio equivalent of that is Ted Russell Kamp's former garage, now affectionately known as The Den. Ted has a new album out, Down In the Den, that features (if I counted right) 35 of his friends, who all happen to be top notch musicians. In this era of social isolation, that's a luxury to dream about. Ted uses it to his advantage, knocking out a 14-song collection with influences from a wide span of American music.
Several tunes have more than a nod to the musical stylings of the South. Every Little Thing starts with Ted's bass and voice before adding drums and keys, then some sweet horns, and finally male gospel vocal backup. Waste A Little Time also features horns, and piano with that easily recognizable plink of an old church upright. Word For Word leans a little more into the blues as it pines for a loved one. Take My Song With You is a slow country shuffle with Kirsten Proffit's crystal bell vocals a brilliant counterpoint to Ted's comfortable baritone.
I could write an entire post just on Home Sweet Hollywood, a funky tune that pokes fun at the sights and sounds of the oddball epicenter as only a decades long resident can do. From the big-hair, middle-aged, 80's-metal wannabe's to the maze of freeways, if you've spent any time here you'll identify with some of the cultural icons immediately. My Turn To Cry pops a couple of mountain ranges over to embrace the Bakersfield sound. Hobo Nickel is a modern Dixieland tune that has you looking around for the second line.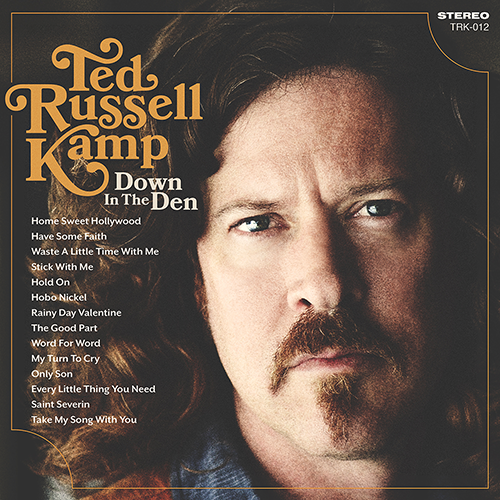 With all the different styles and guest musicians, and even Ted's own ability to play everything from a banjo to a trombone, the record could be disjointed. In fact, it's just the opposite. Every song has its place on the album. With all the chaos in the world today, Down In the Den instead comes off as warm and inviting as an evening with your friends down in the den.
In this day and age with there being no tours or live performances, if you want to get to know an artist better you have to go to their live streams. Ted does one twice a week and you can check them out here.
---
About the author:
I've actually driven from Tehatchapee to Tonopah. And I've seen Dallas from a DC-9 at night.
---