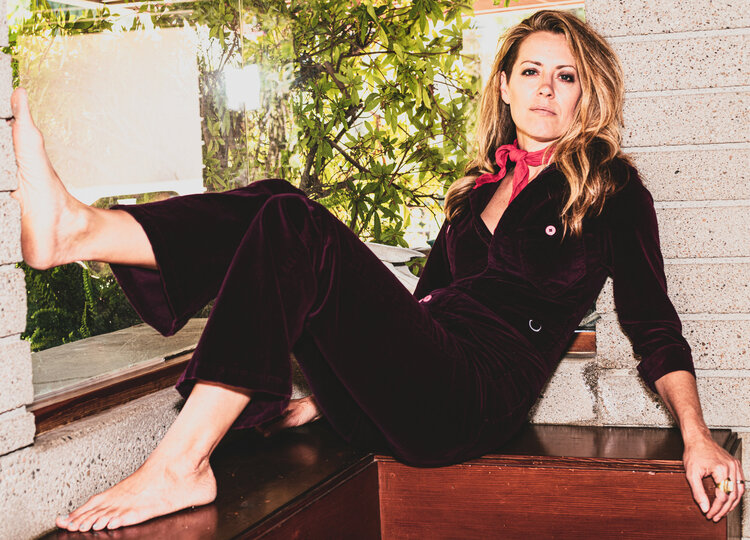 We at Twangville are pleased to be doing our second video premier for L.A. based Singer-Songwriter Emily Zuzik and her upcoming Ted Russell Kamp (Shooter Jennings, Tanya Tucker) produced album "Torch and Trouble". The album will be releasing in August. The song we are premiering is "All That Love". If the first 2 singles are any indication, I expect to find her album on my end of the year best of list.
While "Trouble" was an all out banger in the vein of Sheryl Crow, "All That Love" is more melancholy but no less passionate. It is a song about a broken relationship using a run down house as a metaphor. It is the story of closure and forgiveness. The song is about a relationship that didn't work out the way you originally thought. It looks at the home that was built, like a relationship, that appeared good and solid on the outside, but the cracks eventually caused it to break apart. It's a tale of recovery, forgiveness and letting go.
The music video was a concept that Emily had to play with the image of the house as something that has fallen into disrepair. The video shows a woman walking among the ruins in a dreamlike state. Is it real or a vision? The desert scenes capture all the emotions of something lost, something once beautiful, now gone. The beauty and isolation of the backdrop and the house are as important to the story as the woman herself. There's a missing party who haunts every inch of the space. The video was shot by Emily Zuzik and Cynthia Brando, and edited by Zuzik. Jody Smith did the location scouting and assisted with the spare tire after a flat on the off road.
Musicians:
Vocals/Acoustic Guitar: Emily Zuzik, Electric Guitar: John Schreffler, Pedal Steel/Backing Vocals: Dan Wistrom, Backing Vocals: Hilary Hearty, Bass: Ted Russell Kamp, Drums: Christopher Allis
In addition to being an accomplished musician, Emily Zuzik has experience in film and is a commercial actress. Her professionalism really comes across in the video. Oh… and it is a helluva song.
---
About the author:
Chip and his family live in Birmingham, AL. Roll Tide!
---