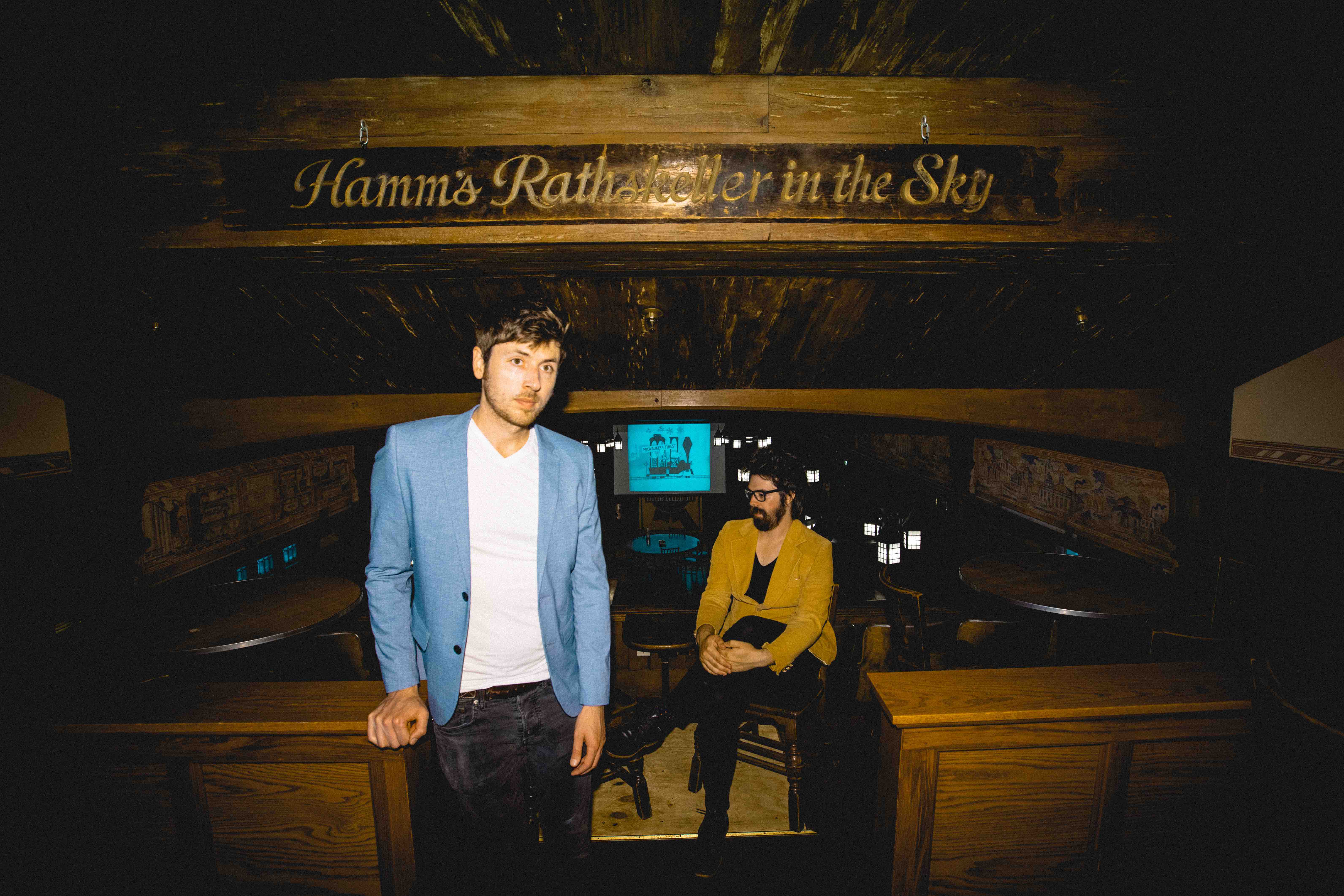 One of the joys of Twangville is having a somewhat front row seat to watch the arc of an artist's career. We've been fans of Brett Newski and his music for many years now. We've watched him transition from a solo musical nomad, touring relentlessly with acoustic guitar in hand, to a more seasoned road warrior who now more frequently travels with drummer Matt Spatola as an electrified power duo.
Newski continues his journey this Friday with the release of Don't Let the Bastards Get You Down. The album finds him maturing in musical confidence, toughness and lyrical perspective. The ten song collection takes on anxiety, both the singer's own and that which he sees in the world around him. Newski approaches it mostly with an optimistic attitude even as he rebels against the stresses of modern life.
Don't Let the Bastards Get You Down rocks with an air of defiance, a portrait of a musician on a mission to fight through the bad in search of the good. One who isn't afraid to stand up to the bullshit that is inevitably encountered along the way. All the better that the battles are set to a backdrop of crunchy guitars and catchy hooks.
Twangville is honored to host the premiere of Don't Let the Bastards Get You Down, due out this Friday. We invite you to join us for Newski's virtual album release show this Friday at 8pm ct.
---
SAYS NEWSKI: A SONG BY SONG COMMENTARY
Grow Your Garden
The world is more competitive than ever and people are feeling inferior to their peers, whether they are at the top of the mountain or not. "Grow Your Garden" is a song about taking care of yourself in manic times. It's about ignoring the traps of comparison that the internet brings to the mayhemic modern world.
What'd Ya Got to Lose ?
So many people get stuck in a life they didn't plan for…an emotional prison that takes shape in a uneventful relationship, addictive vice, or wildly uninspiring employment situation. "What'd Ya Got to Lose" is about breaking those vicious cycles that seem impossible to break. PIVOT. START OVER. What's on the other side? Can it be worse than it is now? If you have a good head on your shoulders, you will land on your feet.
Do It Again
"Do It Again" is about getting addicted to someone who is bad for you.
No Self Control
Every human has a vice. If it's not drinking, it's smoking. If it's not smoking, it's sex. If it's not sex, it's food. If it's not food, it's excessive screen-time. Every person has that little voice in their conscious…a self-bully that nestles inside. Best not to listen to that lil bastard.
Last Dance
No matter what you do, there will ALWAYS be people who want you to fail. You can't win 'em all. Even Mr. Rogers had haters. Jesus has haters. Now, technology magnifies the haters, as they can attack anonymously from behind a smokescreen.
When we hear shit-talk about us through the grapevine, it stings bad. So how to combat that? Put the horse-blinders on and focus on your own mission.
*Co-written with Pat mAcdonald ("futures so bright I gotta wear shades") at the Holiday Motel in Door County, WI.
Pure Garbage
"Pure Garbage" is a good old-fashioned power pop song about a long, long breakup. So often, relationships get dragged out longer than they should: months, years, decades. When enough warning signs rear their head, we have to call the game.
Lousy T-Shirt
Humans now live vicariously thru the tiny TVs in our pockets. "Lousy T-Shirt" is about realizing the power that social media has on us. When we understand its power, we can keep it at arm's length and only use it for good.
When we don't realize its power, we become a slave to it (whether we know it or not). When is the last time you felt truly REALLY GOOD after scrolling thru your social media feed?
Buy Me a Soul
What has THE NEWS done for us lately? The news cycle exploits our emotions, divides our communities and puts us onto teams. (It's a sport with no victor.)
The news cycle slowly hollows out our soul until we are begging the devil to buy it back. "Buy Me a Soul" throws the red flag on the news. We are slowly becoming wise to its intentions. Once we know it's intentions, we can deflect its harm.
Effervescent
Through the course of an album called Don't Let the Bastards Get You Down, we need a love song to part the clouds. "Effervescent" addresses the hard moments of a relationship. Having the hard talks is very uncomfortable, but you always feel better afterwards.
---
About the author:
Mild-mannered corporate executive by day, excitable Twangville denizen by night.
---