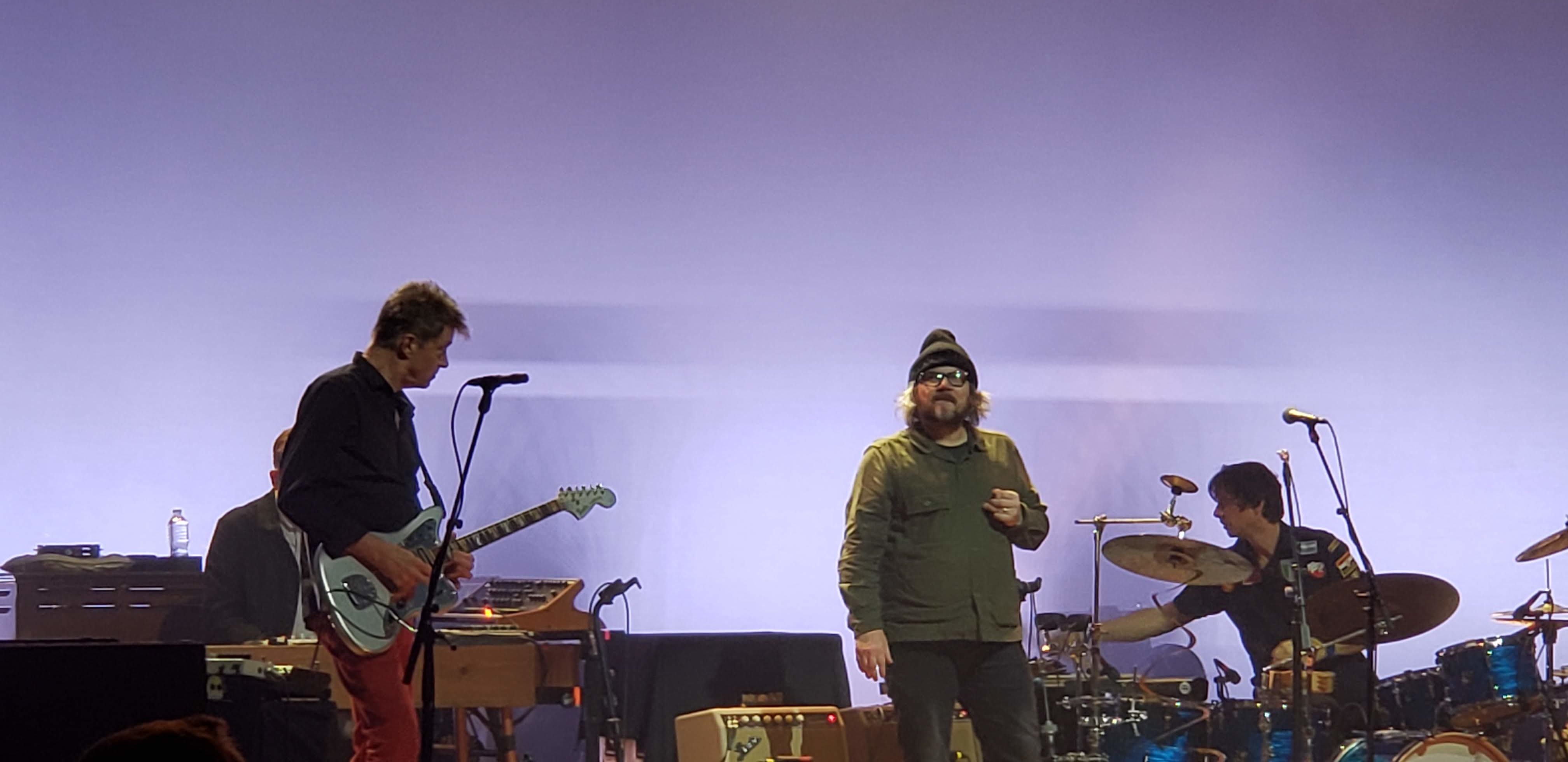 Wilco is currently touring in support of their new release "Ode to Joy". The album is understated yet full of complexity. Tweedy and company fit a lot of layers on a small soundscape and it is an eminently enjoyable listen. However, I must admit that I had some reservations as to how these songs would translate to a live performance. As it turns out, there is a reason that I write about music and am not a musician. The band played most of the songs from "Ode to Joy" during their set and every one was exceptional live.
Wilco has now been around for about 25 years and their set reflected not only the new record, but their deep catalog as well. They played for over two hours and, as you can see from the setlist below, they covered their entire history as a band. Jeff Tweedy's wry wit was also on display. Goading a response from the audience he asked "Are you having fun?… Good here is song about death". Then the band launched into "White Wooden Cross". Songs that really stood out were "Handshake Drugs", "Via Chicago", a mind bending version of "Bull Black Nova" and the closer "Misunderstood". I would be remiss if I overlooked the musicians. Guitar virtuoso Nels Cline showed his prowess on "Impossible Germany", which is played at almost every Wilco show. Not to be out done, multi-instrumentalist Pat Sansome provided a playful banjo solo during "California Stars"
One of the best moments of the evening was the opening song of the encore, "Hate ite Here". When introducing the song Tweedy mentioned that it was the favorite song of Pat Sansome's father. Sansome grew up in nearby Meridian, Mississippi and his father was in attendance at the show.
Wilco is still out on tour and, if they come anywhere near your town, don't miss them.
Setlist:
1 Bright Leaves
2 Before UsM
3 Company In My Back
4 War On War
5 One and a Half Stars
6 If I Ever Was A Child
7 Handshake Drugs
8 At Least That's What You Said
9 Hummingbird
10 White Wooden Cross
11 Via Chicago
12 Bull Black Nova
13 Random Name Generator
14 On and On and On
15 We Were Lucky
16 Love Is Everywhere (Beware)
17 Impossible Germany
18 Box Full of Letters
19 Everyone Hides
20 Jesus, Etc.
21 Theologians
22 I'm the Man Who Loves You
23 Hold Me Anyway
24 Misunderstood
Encore:
25 Hate It Here
26 I'm Always In Love
27 California Stars
28 The Late Greats
---
About the author:
Chip and his family live in Birmingham, AL. Roll Tide!
---