When we last checked into the intrepid folk music hero, Terri Hendrix, she was releasing the first record in a 5 part project she was calling, simply, Project 5. She recently released the final music in an EP, the album Talk To A Human, and a book. I haven't read the book, but the album fulfills much of the vision Hendrix had for creating a larger canvas than a single record could provide.
The title cut sets a solid course for musical direction along with some emotional context with Hendrix's lament about the ironic loss of people's communication skills in parallel with their increased use of social media. Don't Meddle In My Mood is a jazzy country blues tune where the title says it all. Worthy is a sing-along inspiring ode to the support and love one gets from lifetime soulmates where Hendrix notes "it took a long time to grow friends like mine." It's also displays longtime musical collaborator (and legendary producer) Lloyd Maines' mastery of so many musical instruments.
Although most of the album consists of Hendrix-penned songs she's not afraid to use a cover to make a comment. The Dark is a Guy Clark number about seeing the positive in the negative with some wonderful analogies, like how the house settles down for the night just like its occupants. Way Over Yonder In A Minor Key is probably my favorite Woody Guthrie song, and this is an admirable interpretation. My favorite song on the record, though, is Dogging Me. Hendrix took an old Sonny Terry/Brownie McGhee song, replaced the lyrics with her commentary on false support from someone who needs to "ease on up and let me be". Maines then adds a Bo Diddley beat and you have a song simultaneously kind of funny and extraordinarily serious.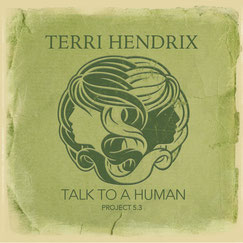 Like an enormous wall mural, Project 5 can be appreciated from a distance in its entirety, or you can walk up close and immerse yourself in a detailed piece. I'd probably argue Talk To A Human is most diverse of the elements (at least the musical ones) in the whole. But frankly, pick up any of the full length records, Talk To A Human, Slaughterhouse, or Love You Strong, and you'll hear immediately why Hendrix has such an avid and well-deserved fan base.
---
About the author:
I've actually driven from Tehatchapee to Tonopah. And I've seen Dallas from a DC-9 at night.
---