Several years later I still remember seeing them do it. The Blind Boys Of Alabama, that night accompanied by the Preservation Hall Jazz Band, doing Amazing Grace, set to the tune of House Of the Rising Sun. It was the first 20 years of gospel influence in rock boiled down to its essence in a 5 minute performance. Musical collaborator Marc Cohn and producer John Leventhal managed to recapture that essence on the new record by Cohn and Blind Boys Of Alabama, titled Work To Do.
The project started out as a 3 song EP where they did a classic Southern gospel version of Walking In Jerusalem. They added Talk Back Mic and the title cut, both bluesy gospel pop. Although Cohn originals, the Blind Boys put their trademark spin on the sound of those two and the result would feel right at home on either performers' individual catalogs. That would have been a worthy EP.
Then, somewhere in the midst of a series of live performances, they recorded a live set at The Kate in southeast Connecticut that was pretty magical. So they added seven of those songs. The Boys added layers of rich vocal texture to the Cohn hit, Walking In Memphis. Another Cohn composition, Listening To Levon, becomes its own gospel song in its worship of the rock legend. And then there's that version of Amazing Grace.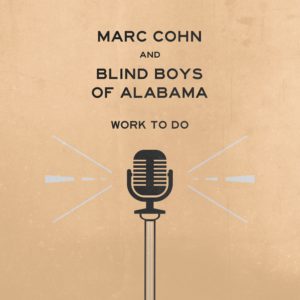 I could recommend you go get this record for that song. But that demeans how good the rest of it is, too. Marc Cohn and Blind Boys Of Alabama have put together a whole that's greater than the sum of its parts. The result, Work To Do, is a testament to how good the intersection of gospel and pop can be.
---
About the author:
I've actually driven from Tehatchapee to Tonopah. And I've seen Dallas from a DC-9 at night.
---