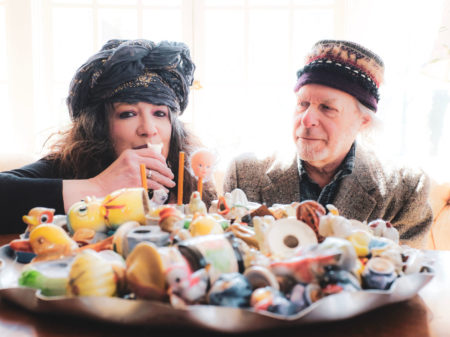 The first couple is back and making music together again. Of course you no doubt know that I am referring to the President and First Lady of Americana, Buddy and Julie Miller. On June 21st they will be releasing their new album "Breakdown on 20th Ave. South", via New West Records. This will be their first collective project since the 2009 Americana Album of the Year "Written in Chalk". It is actually no surprise it has taken this long. For his part, Buddy Miller has been so busy he likely barely finds time to sing in the shower. He backed Robert Plant and Alison Krauss on their Raising Sand tour. He produced and played in Plant's Band of Joy. He has also produced albums from Richard Thompson, Shawn Colvin and Steve Earle, Patty Griffin and the War & Treaty just to name a few. As if that wasn't enough to keep him busy, he worked with T-Bone Burnett on the ABC/CMT series Nashville, and became the show's Executive Music Producer after Burnett left. Julie Miller has herself been dealing with ongoing health issues for a number of years.
The album and title cut take their name from the address of the Miller's home and personal studio. Nothing could be more apropos for a collection of songs as intimate as these to be recorded in the couple's personal space. Their vocals are as gritty, raspy and drenched in Soul as ever. Julie provided songs while Buddy encapsulated them with the signature resonant quality that is a hallmark of his production. The music comes out of the backwoods at its core, but resides more comfortably in a honky-tonk or Juke Joint. Julie's lyrics impress with a poignant earnestness that add depth and profundity. She has a gift for using rudimentary metaphors to create mental portraits for the listener. "War Child" is a perfect example. The lyrics describe the plight of child soldiers stripped from their families in third world countries forced into combat. Other songs like "I'm Gonna Make You Love Me" and "Spittin' on Fire" more sensual imagery to connect the tangible to the emotional.
There is no doubt Buddy and Julie Miller have had a huge influence on other musicians, and it is a welcome return for them to collaborate on a project with such authenticity.
---
About the author:
Chip and his family live in Birmingham, AL. Roll Tide!
---