Bambi Lee Savage started her music career on the control side of the mixing board, doing audio engineering for the likes of U2 and Nick Cave & the Bad Seeds. Over time, though, her creative outlet became the craft of songwriting and led her to singing and playing on the other side of the glass. On her latest album, Berlin-Nashville Express, you can hear the audio engineering love is still there, with a nice sprinkling of ear candy throughout the record.
On Demon Alcohol, "last night's pleasure, this morning's curse" comes with an audio snippet from a bar with Savage dropping a hint on why she's not a whiskey drinker. Walk In Love, a roots rock gospel number, showcases organ to lend both the initial atmosphere and a subtle richness later on the song. Darlin', a remake of a piece Savage wrote for the film Sling Blade, uses violin and jangly reverb guitar to evoke a Beatles feel, albeit with her smoky vocals.
The best of the album, though, is when Savage blends her Berlin punk artist time with her current Nashville residency. The result is a DIY, lo-fi country record that would have fit perfectly in the mid-90's between Uncle Tupelo and Whiskeytown. Baby Come Back is rockabilly with even punker guitar and a snarl that would make Chrissy Hynde proud. Get Out My Pillow (I'm Coming Home) is natural alt-country piece: a train song rhythm with pedal steel and slide guitar to compliment the roots rock. Drinker Of Gin, the other Christian-themed song, delivers its message with punk attitude and a touch of twang.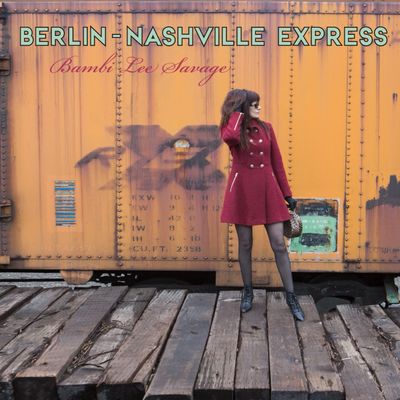 Twenty-five years ago, alt-country revived my love of music. Over the years, many of the bearers of that torch moved into different directions, generally continuing to make great music along the way. But the core alt-country sound ended up getting kind of stale, with just a few bands I'd go out of my way to see again. On Berlin-Nashville Express, Bambi Lee Savage has done a mosh pit worthy job of reigniting the intersection of punk and country.
---
About the author:
I've actually driven from Tehatchapee to Tonopah. And I've seen Dallas from a DC-9 at night.
---