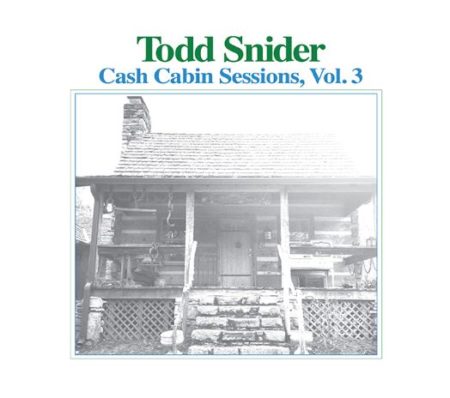 The third installment of Snider's Cash Cabin Sessions, entitled Cash Cabin Sessions, Vol. 3, leaves out Vol. 1 and Vol. 2. Wait, what? Well, according to the liner notes included with this new release Snider had a demo recording session and a couple of sessions with Hard Working Americans already at the Cash Cabin, so I guess in his mind this was his third project there. Or hell, maybe he just likes the number 3 and wanted to confuse people.
Vol. 3 is the latest Snider solo album since 2012's Agnostic Hymns and Stoner Fables.  Of course he hasn't been quiet since then, releasing a Jerry Jeff Walker cover record along with 4 Hard Working American albums and Eastside Bulldog under the moniker Elmo Buzz. While I've enjoyed the Hard Working Americans stuff, there's something about Todd and his acoustic guitar that hits a bit harder, and this album is no different featuring some thoughtful tunes with some great lines.  For example look at the album's opening track "Working on a Song" which is a song about writing a song,  and on which Snider opines "You know giving up a dream is just like making one come true/It's easy to sit around talking about, it's harder to go out and do" and the closing tune "A Timeless Response to Current Events" where he sings "When you allow good men to die for your freedom/Only later to recall them as having fought for your flag, that's some bullshit."
"Talking Reality Television Blues" gives the history of the TV from Milton Berle to Donald Trump and "The Ghost of Johnny Cash" has Loretta Lynn dancing with an apparition of the man in black.  "The Blues on Banjo" is a one-take wonder on current events with the gospel tinged ending chants of "sending out their thoughts and their prayers."  Ten songs clocking in at around 35 minutes with what feels like one half politics and one half good time, which is when I think Todd is at his best.
RIYL:  big pharma, the X-files, hot dogs
---
About the author:
To change this standard text, you have to enter some information about your self in the
Dashboard
->
Users
->
Your Profile
box.
---