If the albums scheduled for release over the next few months are any indication, there's a great year of music ahead of us. Here are just a few forthcoming long-players that we are eagerly anticipating in 2019.
---
WHAT WILL YOU DO by LULA WILES
(25 January on Smithsonian Folkways)
The Boston trio have taken their time since their outstanding 2016 debut. The wait is finally over as they return with another winsome collection of harmony-drenched folk-rock. (Mayer Danzig)
---
WISH YOU WERE HERE by JOSHUA RAY WALKER
(25 January on State Fair Records)
The solo debut from Dallas troubadour Joshua Ray Walker is something to behold. The songs have a well-worn feel, anchored by the twang (and occasional yodel) in Walker's voice. (MD)
---
PRIMETIME ILLUSION by TRAPPER SCHOEPP
(25 January on Xtra Mile Records)
Milwaukee songwriter Schoepp channels some painful years into a freewheeling rock album. And then there's the album track co-written with Bob Dylan, an ode to the state of Wisconsin. (MD)
---
SUNSHINE ROCK by BOB MOULD
(8 February on Merge Records)
The Bob Mould songbook is littered with songs of pain and heartbreak, all driven by Mould's furious guitar playing. The guitar intensity remains, even as he manages to crack a lyrical smile on his latest release. (MD)
---
ALREADY READY ALREADY by GALACTIC
(8 February on Tchoup-zilla Records)
It's hard to go wrong with New Orleans funk, all the better when it comes from the master craftsmen in Galactic. (MD)
---
ORPHANS by MICHAEL MCDERMOTT
(15 February on Pauper Sky Records)
Orphans
is comprised of songs that were written for earlier McDermott albums but didn't make the final cuts. Orphans they may be, outtakes they are not. They sparkle with the melodic grace, often mixed with lyrical intensity, that is a McDermott hallmark. (MD)
---
WHAT IT IS by HAYES CARLL
(15 February on Dualtone Records)
If the first single "Jesus and Elvis" is any indication, then we've got another fine one coming from Mr. Carll. (Todd Mathis)
---
AMERICAN LOVE SONG by RYAN BINGHAM
(15 February on Axster Bingham Records)
Bingham returns with album about America, what it is and what he hopes it will be. The songs are filled with the expected collection of entertaining stories and colorful characters. (MD)
---
EVER SINCE I LOST MY MIND by SUSTO
(22 February on Rounder Records)
It will be interesting to see what a Susto album sounds like given the production of Ian Fitchuk and with the band losing Johnny Delaware, not to mention the rest of the band. I was a bit disappointed in the first single, "Homeboy", but I'm hoping for a great record and wish Osborne the best on Rounder Records. (TM)
---
CALL ME LUCKY by DALE WATSON
(15 February on Red House/Compass Records)
The future of honky-tonk is in great hands thanks to Dale Watson. A champion of the genre, he returns with another album full of songs ripe for the dance hall. (MD)
---
FOREVER by VANDOLIERS
(22 February on Bloodshot Records)
Take equal parts punk and country, top with some mariachi trumpet and you've got the Vandoliers, who unleash their Bloodshot Records debut. Guaranteed to be a raucous good time. (MD)
---
QCNH by QUAKER CITY NIGHT HAWKS
(1 March on Lightning Rod Records)
Fort Worth's Quaker City Night Hawks inject a bit of soul into their guitar-heavy Southern rock sound. (MD)
---
CHEERS by THE WILD REEDS
(8 March on Dualtone Records)
Singers, songwriters, and multi-instrumentalists Kinsey Lee, Mackenzie Howe, and Sharon Silva return with songs that showcase their individual personalities and collective harmonies. (MD)
---
WALKIN' SHOES by TED RUSSELL KAMP
(15 March)
One would expect some wholesome grooves from a bass player, right? Well, Kamp doesn't disappoint in that regard, infusing this country-rock collection with a heaping helping of it. (MD)
---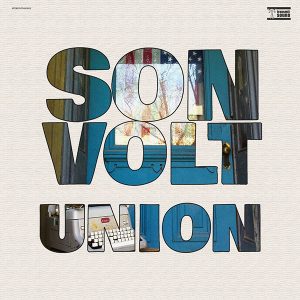 UNION by SON VOLT
(29 March on Transmit Sound/Thirty Tigers Records)
Jay Farrar offers up a pointed contemporary folk album, albeit one packaged as a rock album. (MD)
---
GUY by STEVE EARLE & THE DUKES
(29 March on New West Records)
Steve Earle pays tribute to a master – and one of his mentors – with this collection of Guy Clark songs. (MD)
---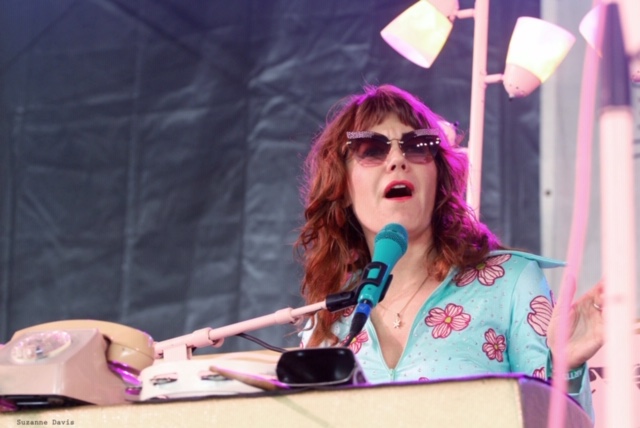 ON THE LINE by JENNY LEWIS
(Spring 2019)
After the end of her 12 year relationship, Jenny Lewis picked up and moved across the country to NYC, after living in the LA area for most of her life. These 2 events would provide the backdrop for her new album
On the Line
, which will be released this spring. With help from Beck, Ryan Adams, Ringo Starr (!!!!), Benmont Tench (of Tom Petty & the Heartbreakers), and Don Was, this will be Lewis' first album since "The Voyager" in 2014. (Suzanne McMahon)
---
Jenny Lewis photo by Suzanne McMahon.
---
About the author:
The Twangville Posse listens to music. Lots and lots of music.
---