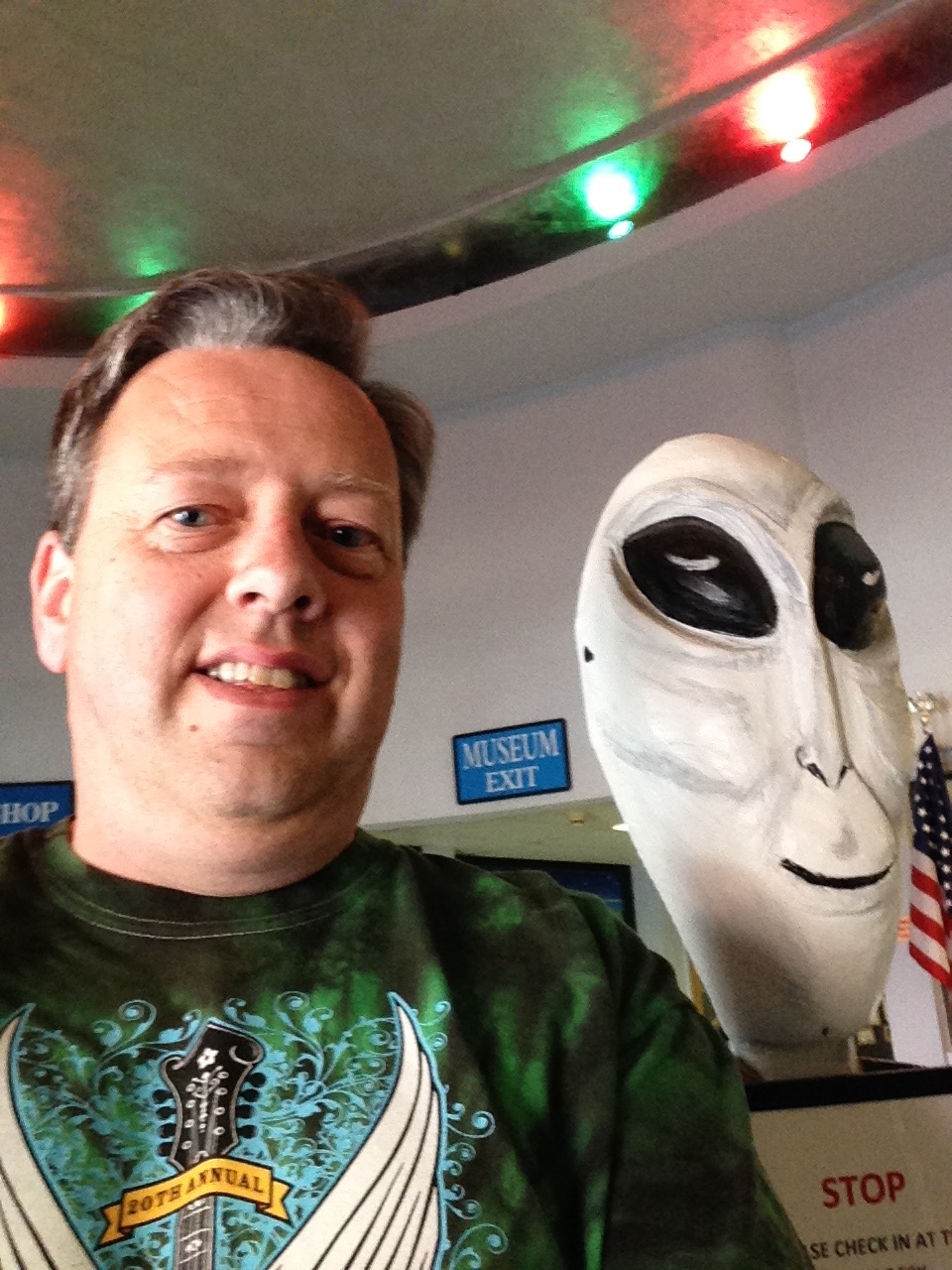 Shawn Underwood (pictured left of alien).
Here we are again… Thanksgiving 2018, y'all… which means we're celebrating 13 years of Twangville's existence. For as long as I can remember, I've been writing a Thanksgiving toast each year to thank our contributors, our community, and the artists who give us something to listen to and write about. Without someone to make the music, we'd have nothing to share. Without you gracious readers, we'd have no one to share music discovery with. All to say, thank you a hundred times over for being a part of this community.
Last year, we continued the Twangville Thanksgiving (aka Twangsgiving) tradition by letting you get to know one of our contributors a little better by toasting the extraordinary Crimson Tide lovin', Chip Frazier.
This Thanksgiving, let's raise a glass to Shawn Underwood. I first met Shawn at Twangville's 2012 Showcase in Columbia, South Carolina featuring American Gun, Mooncussers, and Lydia Loveless. So, 7 years after Twangville's beginning and 4 years into Shawn's contributions, we finally met in person. That's one of the beauties of this little blog—a means of bringing together a group of americana roots lovin' people who likely never would have met otherwise. I'm sure glad to have met Shawn at that moment in time and was even more pumped when we met again earlier this year in my neck of the woods. Circumstances brought him eastbound from California for a weekend, so we chatted over beers at Mustang Sally's Brewing Company in Chantilly, VA. That was when Shawn enlightened me that Wagon Wheel has become the new Freebird—so true (see below where I egg him on about this.) Thank you, Shawn, for sharing your love of music with us all.
Here's a little more from Shawn to get to know him better:
Interview with Shawn Underwood
[Twangville] What's your first music memory?
[Shawn] My grandmother taught piano so whenever I was at her house someone was plinking on the keys. Later that someone was me, and I didn't take to it any better than the other kids.
What's the first music you ever purchased?
Bachman Turner Overdrive. My gateway drug to hard rock and roll was hard rock and roll.
First concert?
Stadium show with Steve Miller Band (Fly Like An Eagle tour) and Peter Frampton.
What five songs would be on your desert island mixtape?
5 *songs*?! 5 *songs*?! Didn't it used to be like 5 albums? Anyway, the album version of "In-A-Gadda-Da-Vida", "Tubular Bells", the live version of "Dark Star", "2112", "Shine On You Crazy Diamond". I think they all clock in at over 20 minutes, so that's over an hour and a half before I have to hear the same thing again. That should also tell you a lot about how I pick live music to go see.
What's the best American city to see music in?
Austin. I have so many fond memories there. There's probably as much live music in Nashville (or NY or LA), but it's the attitude in Austin that wins. Audiences there are super supportive, and people are going out to see music because they want to, not because they're in the industry.
Any local bands from that city should people see?
You should treat live music in Austin with a Zen approach. Live in the moment. Listen to who people are talking about. Look for who's in residence at some of the better clubs. Go to a house concert. You can see 5 bands in a night, easy. So just go get your fill.
What's the best way to support musicians?
Financially. Buy their stuff, see their shows.
What's your favorite Thanksgiving dessert?
I'm not really a dessert person. I fill up on the turkey and stuffing.
Best way to cook a turkey?
Deep fried on someone else's patio.
Anything you're thankful for this year?
I live on the beautiful central coast of California and get to write for Twangville. What else could I wish for?
Best album of 2018?
Don't want to spoil my Best-Of list next month…
Favorite music festival?
I went to my first Rockygrass about 1988 or so. There were no wristbands, no need for shuttle buses from overflow parking, no 50'x50′ tarps "saving a place". It's right on the St. Vrain river and it was magical back then.
Best local brewery?
Corralitos Brewing in Corralitos, CA
Freebird or Wagon Wheel?
Yanking my chain on this one, aren't you. I don't think Skynyrd is touring anymore so I can't get them to play Wagon Wheel. I guess I need to go to OCMS next time they're in town and yell "Freebird!".
What would you like people to know that they might not know about you?
I love genre-bending covers. I think it speaks to how good the song is when it translates across many styles. The a-ha for me was Nazareth's Love Hurts (remember that love of hard rock) and when I first heard the original with Gram and Emmylou. Mind blown. Check out Ruthie Foster covering War Pigs or Doc Watson doing Nights In White Satin.
Thank you, Shawn! Twangville is better because of you. Happy Thanksgiving to your and your family.
---
About the author:
Washington, D.C. area web designer by day. Music is my muse. I host Twangville's weekly Readers' Pick.
---