As a newbie to AMERICANAFEST I have to say that looking at the schedule beforehand I was a bit overwhelmed. Throw in the fact that it had been about 10 years since I'd been to Nashville and that made it even more so.  But once I got there and settled into the pace and learned where all of the venues were located (thanks to Shawn and Mayer) everything went great and I was able to catch a ton of shows over the 4 days I was in town.  Here's a quick run down of my favorites and a Spotify Playlist to accompany it.
1. Steve Poltz at City Winery –  With a set that could only be described as one part music, one part storytelling and one part comedy, Steve Poltz was outstanding. From the hilarious new tune called "Ballin' on a Wednesday" to his sincere cover of John Hartford's "Presbyterian Guitar" you didn't know what to expect from one minute to the next, but you were sure it was going to be from the heart.  I even went up and gave him a hug after the set inspired by one of the stories he told about a "man with a red hat" and the differences and sameness in all of us.  If you see Steve playing anywhere near, go check it out.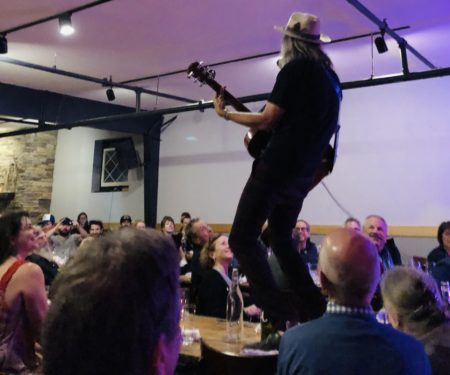 Steve Poltz rocks the table
2. Bloodshot Party at the Groove – As soon as we walked into the back of theGroove I knew this was going to be a good show. The vibe was good, it was a mostly shaded area with an occasional breeze, and there was free beer.   Not to mention a rocking set by Ruby Boots clad in her Midnight Oil t-shirt, followed by the Vandoliers, and then Robbie Fulks with Linda Gayle Lewis.  Fulks' band featured Redd Volkaert, who played with Merle Haggard for years and can rock a Telecaster like no other. As part of the Fulks set there was a 2018 version of "Fuck this Town" with the lines "Fuck Blake Shelton and fuck Zac Brown, fuck ole Sugarland and fuck this town!" Good stuff.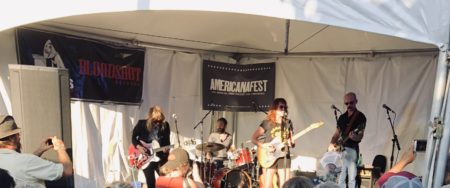 Ruby Boots
3. 3rd Annual Bloody Mary Party – Lost Buffalo put on a very nice showcase over in East Nashville with some ladies I had not seen before.  I came away being a fan of Ana Egge and have been listening to her latest, White Tiger, ever since.  This was also my introduction to Lula Wiles, a three piece who met at fiddle camp in rural Maine (I think I got that right.) but are now based out of Boston.  They traded around instruments and made three part harmony look as easy as pie.  I've still got their song "It's Cool" stuck in my head like peanut butter stuck to the roof of your mouth.  Their latest comes out on Smithsonian Folkways next year.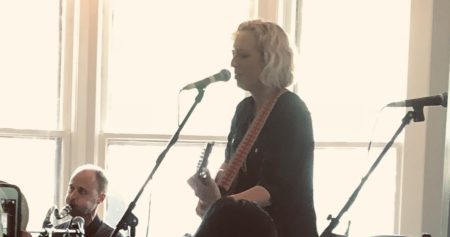 Ana Egge
4. Kevin Gordon at Tennessee Brew Works– I'd seen Gordon before but only as a solo act, so I was psyched to see him with full band in tow.  90 minutes of well crafted poetry with bluesy riffs and a rocking rhythm section paired with Brew Works' State Park Blonde was just what the doctor ordered.  A rousing rendition of "Colfax" had everyone shouting.
5. The Band of Heathens at 12th & Porter – I was honestly not as familiar with this band as a lot of folk. I enjoyed their 2017 release Duende but that was about it.  I hadn't had the chance to delve into their back catalouge before seeing this set, but it's something that I will be doing. A true rocking set with skilled performers.
Other Notables
Awards show – Irma Thomas showed up all of the singers on stage with their Aretha cover.  When it came her time to sing, she effortlessly belted out her verse barely straining, swaying back and forth, with a huge grin on her face.  I know it wasn't planned like this, but she showed up every other female singer in the building with her pipes.
Tommy Emmanuel at The Local – All I can say is you shouldn't be able to do all of that to a guitar.  Damn…
Bottle Rockets at 12th and Porter and The Local – Blasting through their new album, "Because we need the practice" the Bottle Rockets sounded as tight as ever.
Sam Morrow at InDo Nashville – Featuring a slew of outlaw country songs, a Shooter Jennings look and Dwight Yoakam's previous guitarist Brian Whalen, Morrow brought a nice rollicking set early in the day.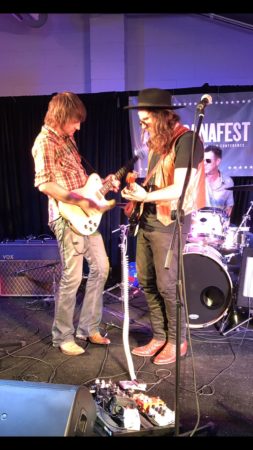 Sam Morrow
Sarah Borges at HiWatt – With Roscoe Eric Ambel on guitar and the Bottle Rockets filling out the rhythm section, Borges brought her A game.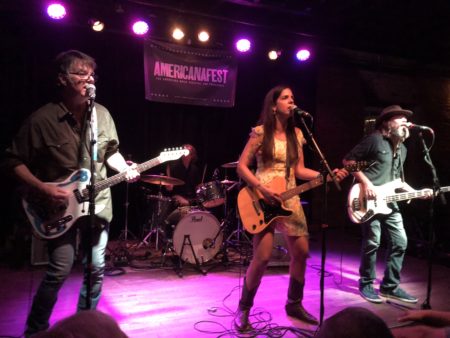 Sarah Borges
Tyler Childers at the Cannery – Although this show was almost too crowded to enjoy, Childers and company put on an inspiring set for the Nashville folk and was excited to play "the Lucero after party" as he put it.
---
About the author:
To change this standard text, you have to enter some information about your self in the
Dashboard
->
Users
->
Your Profile
box.
---