Boredom is a cruel mistress.  She tempts you to do things you know better than to do, and demands silence and negligence when action is needed.  Add in the weather-driven, laconic nature of life in the lower Mississippi River basin and it's a potent mix of attitude.  Nobody understands that better than Kevin Gordon.  On his newest album, Tilt And Shine, he continues his tradition of stories about life in rural Louisiana, where you can practically still choose what decade to live in.

The CD starts off with Fire At the End Of the World, about a teenage road trip, the purpose of which is mainly about doing what you're not supposed to do.  Even after the sheriff comes to class to administer an anti-drug presentation where "statistics were given, slides were shown."  One Road Out tells of the rodeo performed at the Angola State Prison; with the demise of Ringling Brothers Barnum And Bailey probably the only remaining purely American circus.  Saint On A Chain is perhaps a more uplifting piece, exploring the motivations for wearing a St. Christopher's medal.
Gordon described somewhere the sound he gets out of a particular old guitar as being Satan coming up out of the sewer.    That dirty, smoky, sawtooth feel is evident throughout the album.  Drunkest Man In Town has Kevin ripping through a solo that would have made early-70's Keith Richards proud.  He cleans it up a bit on Right On Time, and it comes across more like Springsteen or Southside Johnny.  On Get It Together, he adds a honky tonk piano to put a little country spin on the old question asked of a friend about when he's going to get his shit together.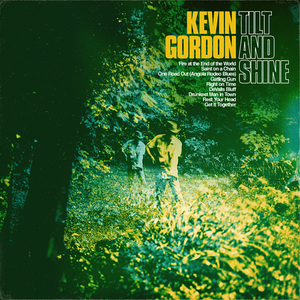 It's hard to listen to much Kevin Gordon without starting to identify with the situations and characters he describes in his stories.  People talk about getting lost in a story when they curl up with a good book.  I'm here to tell you the same immersion happens with a good Kevin Gordon record, and Tilt And Shine proves it once again.
---
About the author:
I've actually driven from Tehatchapee to Tonopah. And I've seen Dallas from a DC-9 at night.
---