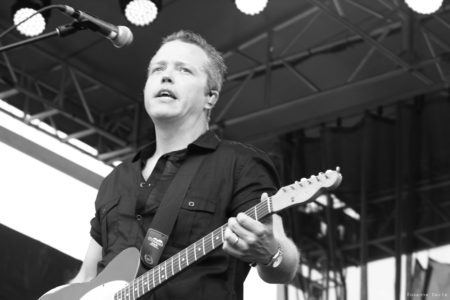 While this year's Newport Folk Festival included lots of new acts, it also included those who are dependably brilliant artists for years. Jason Isbell is almost single-handedly elevating country/Americana music to new heights. Sturgill Simpson has brought unabashedly thoughtful country to the discerning listener. Jenny Lewis has a long history of critical acclaim including her now defunct band Rilo Kiley. Mumford & Sons don't quite fit into this group since they've been quiet lately until this surprise appearance.
Jason Isbell (and David Crosby)
You'd be hard-pressed to find a more consistent artist who is hailed universally throughout the music industry more than Jason Isbell. He's releasing high-quality albums at a furious pace so it's not a surprise that he was the headliner on Friday Night at this year's Newport Folk Festival. In the last 11 years, Isbell has released six albums and cemented his place as one of the (if not the) brightest light in the Americana scene.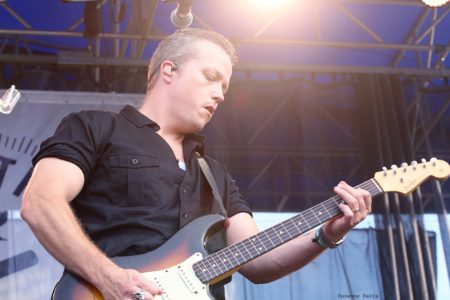 Jason Isbell's heart-stopping masterpiece "Elephant" from Southeastern still gets me every time. The arresting story of a friend dying of cancer is one of the most intimate songs I've ever heard. Isbell has added another gem to this style of intimate song in his ode to the temporary nature of life and love "If We Were Vampires." Both songs were definitely emotional stars of the show.
Isbell also included many more recent favorites in his show "24 Frames," "Cover Me Up," "Stockholm," and "Tupelo." He's able to easily work the crowd and stand on the stage with David Crosby and pay him homage. Isbell is showing his newfound status.
Sturgill Simpson
Though this was my first time seeing Sturgill, I was amazed. I've seen many of his acoustic shows on youtube, but I'd never seen Sturgill just rip on electric guitar. He got on stage with a bassist, drummer, and pianist and had absolutely no problem tearing through the songs. He seemed like a rocker with only slight hints of his country feel. I was amazed. It was a throwback to a, dare I say it, Hendrix-type role of lead-guitarist and singer. It's only an apt comparison in that Sturgill had complete command of the band, audience, and the song. It was quite the rocking performance the genesis of that is Simpson himself.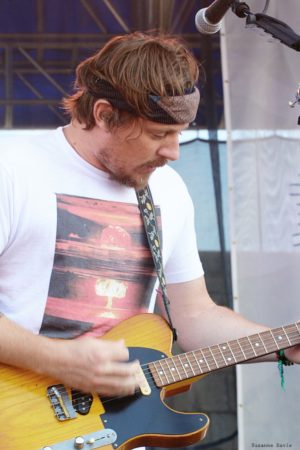 While I don't know Sturgill's songs as well as Jason Isbell, now I know that he's a great electric guitarist. I'd love to see his next record push the hard rock edge a bit more.
Jenny Lewis
Last time I saw Jenny Lewis at Newport in 2014, she absolutely stole the show. Her matching guitar and psychedelic jacket matched her performance in flair. Her absolutely superb album Voyageur was on display.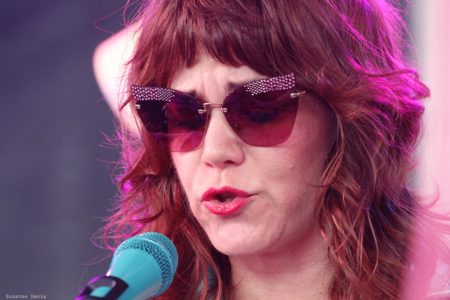 Fast forward four years, and I was psyched to see Lewis back on the Newport stage. This time was wearing an even more stylized red suit and her performance had the same amazing energy. She's recorded with Ryan Adams as producer for the album Voyageur with several classics, especially "Head Underwater" and the closer "She's Not Me." She just seemed too good for the smaller stage. She's not a secret but she hasn't burst onto the scene and taken over either.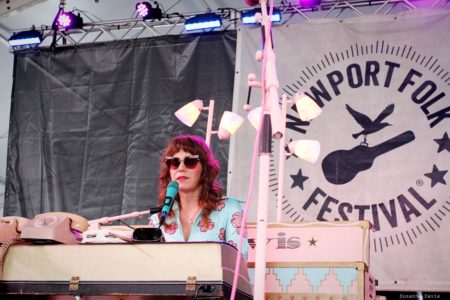 Can't wait to get her next record and see that she's pushes even further into that Americana territory from the album Voyageur. Maybe the next one will really break through like she deserves.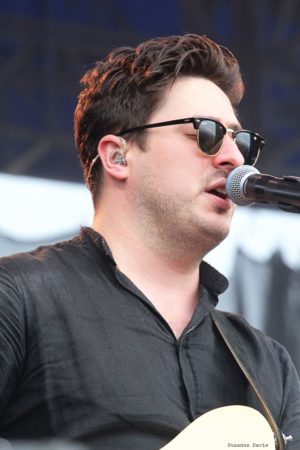 Mumford & Sons
For the surprise headliner on Saturday night, Mumford & Sons took the stage. I have to admit that I was a bit disappointed. I was hoping more of a legendary figure would be the surprise headliner. While Mumford & Sons certainly got the crowd rocking, they are a band who seem to have peaked a few years back.
Photos by Suzanne McMahon
---
About the author:
Jeff is a teacher in the Boston area. When not buried correcting papers, Jeff can be found plucking various stringed instruments and listening to all types of americana music.
---