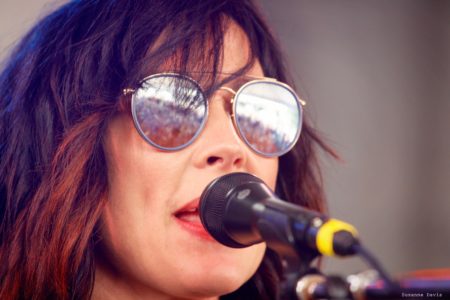 At Newport Folk Fest 2018, the lineup included both established artists and up-and-coming artists. The up-and-comers were particularly compelling this year. Brand new artists, those coming together as a new band, and those with a totally new sound. This year's committee did a great job of finding acts coming into their own and all of them knew how to rock the old folk fest.
First up: Tyler Childers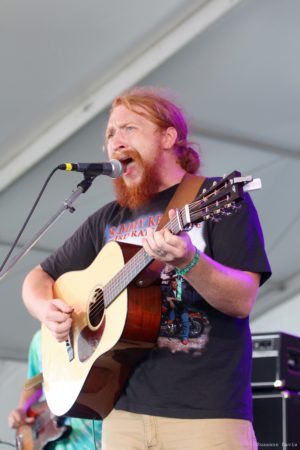 Childers is one of a new batch of Americana singer/songwriters. He first gained attention through a highly acclaimed album produced by Sturgill Simpson, a fellow Kentucky native. Childers' album Purgatory includes elements of bluegrass, Americana, country, and singer/songwriter genres. His most recent album "Purgatory" includes expert playing and emotional singing.
At Newport, Childers band showed a much tighter full band approach. He joked and fleshed out his songs like a road veteran. Childers' down and out rural characters come to life a bit differently during his rock show (as opposed to the recorded versions). The band came to rock and easily brought the crowd to their feet. "Feathered Indians" has a bit more country feel on his record but transitioned easily to the rock show that Childers brought to Newport. His tune "Born Again" tones down the mandolin and fiddle in favor of electric guitars. "Honky Tonk Flame" kept some of the country flavor but included a more full arrangement.
Standout acoustic "Lady May" was just Childers and his guitar and the treatment accentuated the beauty of Childers' lyrics and his love for his wife. I was definitely rocking much more than I thought with Tyler. He's equally confident with a band and alone with a guitar.
Newport Debut: Glorietta
Considering I discovered both Noah Gundersen and David Ramirez this year and was dying to see them, when I heard they'd both be performing as a part of Glorietta I was that much more impressed with the lineup this year. As my third trip to Newport, I was never as impressed as when Glorietta debuted at Newport. In addition to Gundersen and Ramirez, the band features Matthew Logan Vasquez, Kelsey Wilson, Adrian Quesada, and Jason Robert Blum.
Sound check with this many people took quite a while. I already knew that David Ramirez and Noah Gundersen had great songs, particularly of the acoustic variety. As soon as Glorietta broke into their first song, it was the rock show all the way. Even the more down-temp songs like Noah Gundersen's "Golden Lonesome" featured a thick electric tone. David Ramirez' "Hard Way," which I already had heard acoustic, benefitted from the thicker electric treatment as well. Adrian Quesada's guitar brings the tune to life.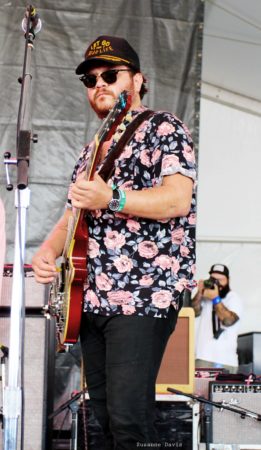 Matthew Logan Vasquez' tune "Heatstroke" has that riff rock feel that is missing from most of our current rock. It's a great sing-along with a groove and stream-of-consciousness lyrics. But that groove brings the song to life.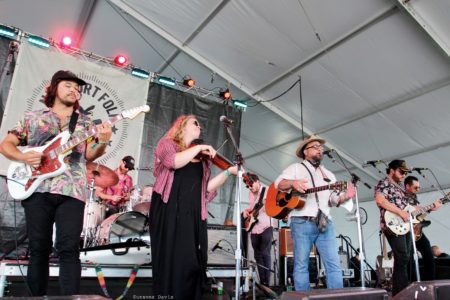 The band claimed they'd only be together for this one tour. Hopefully, they'll keep things together for a bit long than that when they're this much fun.
New Sound: Amanda Shires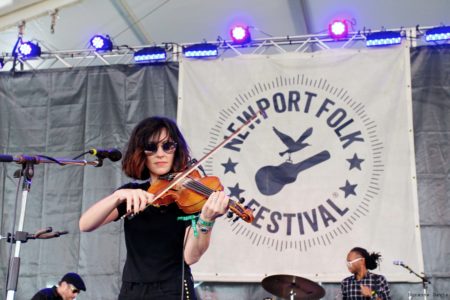 While she's been releasing albums since 2007, Amanda Shires seems to have found a new and amazing sound. It features her country warble, fiddle, affecting songs, and a rock style that seems to be orbiting ever closer to that of her husband Jason Isbell. On the Newport Stage, Amanda seemed much more comfortable behind the microphone and in front of the band. Jason Isbell came out for a few songs and felt like he fit right in to her evolving sound.
All Photos by Suzanne McMahon
---
About the author:
Jeff is a teacher in the Boston area. When not buried correcting papers, Jeff can be found plucking various stringed instruments and listening to all types of americana music.
---