A friend and I were talking the other day about the irony of punk music being 30+ years old. Although I can't claim to have been a punk rocker back in the day, I did like the country influence that some LA bands were putting on it, notably X, under the nom de plume of cowpunk.  For a few years a lot of musicians claimed cowpunk bona fides and then the better parts got integrated into many other genres, leaving a rage-filled husk over in the corner of the room.  On their latest record, Kick Out the Twang, LA band Speedbuggy has taken that self-loathing loser, shaken it by the shoulders, and slapped it into shape.
 Wood, Screws And Nails is a sub 3-minute blaster with a sweet lead guitar part that's all Roy Nichols or Buck Owens.  South Bound is a breakneck paced number about trains while Darlin' I'm Comin' Home is a trucker song.  Country themes for sure, but hardly country songs.  In a truly mind-bending cover, the boys put the twang on The Monkee's Take the Last Train To Clarksville.
Speedbuggy USA is no one note act though.  I might even argue the best songs on this album owe a lot more to Nashville than to LA.  Shaky Town is a two-step danceable tune with band leader Timbo sounding a lot like Fred Eaglesmith, albeit with a trucking song instead of a train song.  Long Gone features Timbo on mandolin and is pure bluegrass.  The Devil With Me is a sad lament on the spiritual price of one's weaknesses.  Honky Tonk Singer is a tear-jerking ballad that accepts being "at the end of a trail."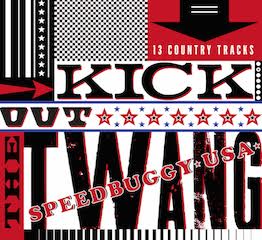 So much of country music has gone to the middle these days in a quest for broader acceptance.  Kick Out the Twang is a splash of cold water in the face to that notion.  In forty-two minutes it bangs out thirteen songs that will leave you breathless and excited to hit repeat on your player.
---
About the author:
I've actually driven from Tehatchapee to Tonopah. And I've seen Dallas from a DC-9 at night.
---