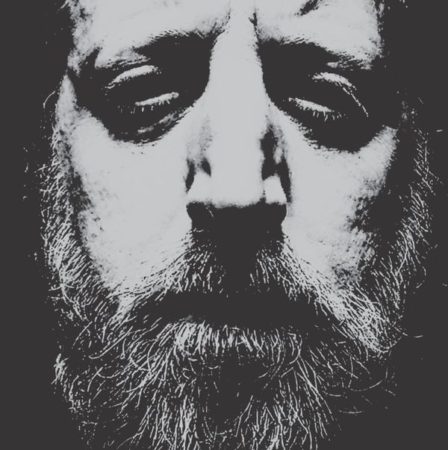 I have to admit when Zach Seibert (singer/songwriter for E.Z. Shakes) told me his newest project was going to record at Mitch Easter's Fidelitorium I was pretty excited.  I've always considered Zach one of the best songwriters in South Carolina (and beyond) and I couldn't wait to hear his first proper full-length since 2009's excellent Learning to Drown.  After spending a few weeks with The Wolf I can solidly say it will be high up on my Best Of list for 2018.
Recorded mostly live to tape and engineered by Missy Thangs, The Wolf, opens with "Catch Hell" who's chorus asks "Are we gonna catch hell when Jesus comes back?"  Religious themes run deep throughout the album, although in the same opening track, Zach makes it known we aren't dealing with saints here:  "I been singing gospel since I was teething/but on the inside I'm a goddamn fuckin heathen." And on "Rock and Roll" he states "My life was in shambles I was living in sin" and goes on to sing "When my life gets heavy just play me rock and roll."
Along with the struggle of faith, there's also the struggle of a rambling musician, on songs such as "Green-Eyed Girl" and "Kerosene" that offers up "When the lights go down and we're famous in our heads." Basically throughout The Wolf, Seibert lays it out there, the good, the bad and the ugly and puts his heart strings on the guillotine. (See track 8 "Guillotine" for my bad joke reference.)
The album was produced by the guitarist in the band, John Furr (formerly Danielle Howle & the Tantrums), who also plays bass.  Rounding out the band is the tasteful pedal steel of Todd Hicks and just the right amount of percussion from Stanford Gardner. Some may say the hand was heavy on the reverb, but it doesn't detract from the overall product, and the kids seem to like the reverb these days. I know I do.
Seibert has always had the perfect voice for Americana/Rock, and if the music world were "fair," then E.Z. Shakes would be opening for Tyler Childers or the like, but the reality is these guys all have families and day jobs and aren't hitting the road in earnest anytime soon.  In the meantime, I'm glad they are pouring their souls into this music and putting it out there for us to enjoy. And hey, who knows, maybe you'll see them on the big stage one day. I know I'd buy that ticket.
RIYL:  Black Velvet, tattered bible pages, the smell of fresh cedar
Buy the album HERE.
Stream it HERE.
---
About the author:
To change this standard text, you have to enter some information about your self in the
Dashboard
->
Users
->
Your Profile
box.
---