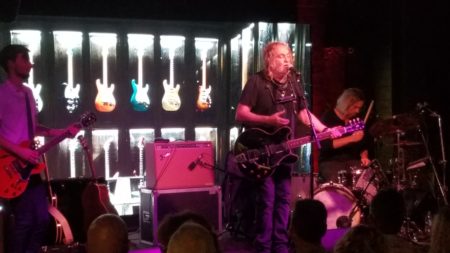 At one point early in his set Ray Wylie Hubbard borrowed a line form one of his songs and said, "Any day my gratitude is above my expectations is a good day. Today has been a good day". It was indeed a good night. The event took place at Songbirds in Chattanooga, Tennessee. Songbirds is a guitar museum that houses untold millions of dollars' worth of vintage guitars. It is something not to miss if you are ever in the area. The backdrop behind the band was a glass encased wall of Rock N' Roll battle axes asking to be played. In fact, I feel certain if "Wanna Rock N' Roll" had gone 30 seconds longer the guitars would have come to life in a scene akin to a Stephen King novel. Such a haunting scene would have been appropriate in the world of Ray Wylie Hubbard, which is part Texas Gothic and part Film Noir. This is especially true with an artist like Hubbard who often references specific instruments in his songs.
Hubbard ran through a set that encompassed his full career, including a few songs from his excellent current release "Tell the Devil I'm Getting There as Fast as I can". When introducing the title track, Hubbard described the album as collection of songs mostly about "hoping God grades on the curve." Hubbard's gift for crafting candid stories and unpretentious lyrics allows each of his songs to stand alone. Thank God they don't have to. His band encapsulated these literate songs with an aura of Electric Blues and Country Soul that was blazingly suitable to give life to these tales. His son Lucas is the lead guitarist and he can flat out play. His licks channel the music of the Delta in a way that is beyond his years.
Hubbard is no doubt a songwriter's songwriter and he played some of the tunes that have gained not only himself but others notoriety, like "Choctaw Bingo" and "Drunken Poet's Dream" just to name a couple. He even played his least representative but best-known song popularized by Jerry Jeff Walker, "Up Against the Wall Redneck Mothers". He has often distanced himself from this song, but that night he played it because he remembered going to see Bob Dylan and wanting to hear "Masters of War". Dylan didn't play it…" or maybe he did and I didn't recognize it." Hubbard gave the people what they wanted, and played it "So Well…So Well…So Well".
The evening closed out with "Snake Farm" and it was somehow fitting that the show ended with a collective "uuuugghhh" from both the audience and the singer. If you have never seen Ray Wylie Hubbard live don't miss the chance. Between the literate songs, Hubbard's irreverent humor and the gritty Rock N' Roll I promise you will have a good time.
---
About the author:
Chip and his family live in Birmingham, AL. Roll Tide!
---