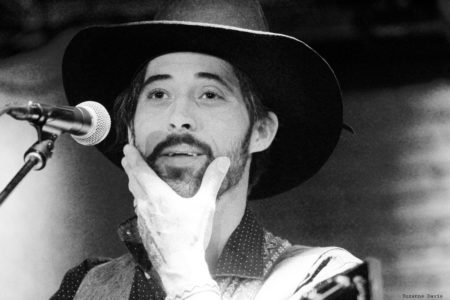 Sitting down to a nice meal at City Winery in Boston, my wife and I were excited about what we had coming. But even we didn't know that  Ryan Bingham was about to perform almost three hours of songs and stories. When it comes to vignettes, Ryan has more than a couple and has lived the life he sings about in his often heart-wrenching songs. Bingham used to ride bulls at the rodeo and broke both legs and some other bones as well. In addition, he lost both of his parents before his career took off (mother to alcoholism and father to suicide). Music was Bingham's way out of his east New Mexico and West Texas upbringing in the country.
From his most recent album "Fear and Saturday Night," Bingham's tune "Nobody Knows My Trouble" is one of his most affecting and incisive songs. He sings "Well it didn't take too long /  For the pills in the bottom of a bottle / To dig a deep grave with a shovel / And bury everything that a young boy needs / But I found me a guitar / One lonely night in a border town / My pain, I started to write it down / But it wouldn't stay away from me." The imagery is both specific and abstract. It's a way of connecting Bingham's pain and difficulty in his life with his creative output.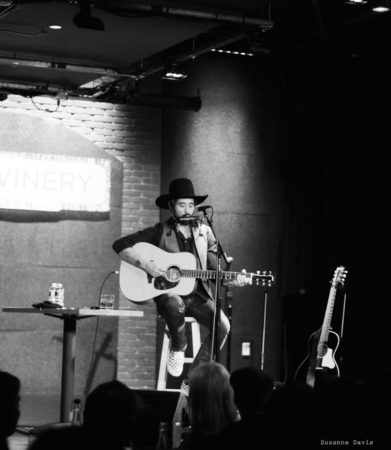 Ryan sprinkled in a variety of stories that gave more insight into his upbringing. Ryan related how his song "Hard Times" Ryan talked about the connection to his father. The song goes through a variety of hard times that everyone experiences in his neck of the woods. Ryan talked about his parents selling their family's ranch and then working in the oil fields. Ryan spent quite a bit of time as a bit of a nomad and discussed this period with a smile on his face. He talked about how no one from where's he from went on to be a singer like Bingham. Despite all of his hard times, Ryan seemed to appreciate the message from his father that hard times are universal in that neck of the woods.
From this point, Ryan's stories turned into the type that are just too crazy not to be true. For example, Ryan talked about his plans to play in the Wild West Show in Paris, France. He had no money and was living out of his car at the time. He had $100 in his pocket and the guy sent him to Paris on a plane ticket. When he finally arrived, it turned out that the guy who was working on the show in France who was supposed to meet him didn't work for the show anymore and his promised job was gone. Ryan had no way to get home. After he arrived at the show and discovered his predicament, one of the Native Americans who worked on the show approached him and told him that he'd heard about the situation. He then offered Ryan a bed and a place to stay in their house.
Eventually, Ryan slept for a few days and woke up to partying in the house. The music sounded familiar and eventually Ryan discovered that a friend of a friend had given an earlier cassette of Ryan's material and his hosts had been the lucky recipient. Suffice it to say that they got on well and loved Ryan's music. Bingham was inspired by bonding with his Native American hosts and their stories to write about the case of Leonard Peltier and the incident at Pine Ridge in the song "Sunshine."
"Sunshine" was a beautiful song to connect Ryan's blues to the suffering of others. He played a truly heartfelt slide guitar part that, coupled with Ryan's road-worn voice, makes the song stand out in its rough twangy glory.
Finally, no Ryan Bingham show would be complete without Ryan's classic tune "Southside of Heaven." He begins the song "When I die, Lord / Oh, won't You put my soul up on a train." The rough hewn vocals, intense harmonica, and twangy vocals were super catchy and driving even with just Ryan on the guitar. Bingham explained that when experimenting at one point he just started putting words to a chord progression he kept seeing. It made it seem like a happy accident but it certainly seems like it reflects the pain of Bingham's life.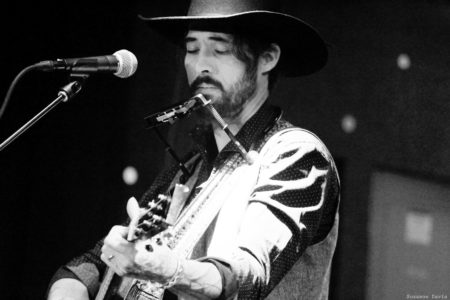 Ryan Bingham's voice and it's ragged glory are a reflection of the trouble that he has seen. The singer has lived a rough and tumble life without much support (battling homelessness, injuries, and the early deaths of his parents) but we're all lucky enough that he found his calling to convert his pain into beautiful music. Stories, songs, and a relaxed atmosphere proved talent throughout the show. Ryan took us through a journey of the blues and persevered through it all. The more I heard, the more inspiring Bingham's story became.
All Photos by Suzanne McMahon
---
About the author:
Jeff is a teacher in the Boston area. When not buried correcting papers, Jeff can be found plucking various stringed instruments and listening to all types of americana music.
---