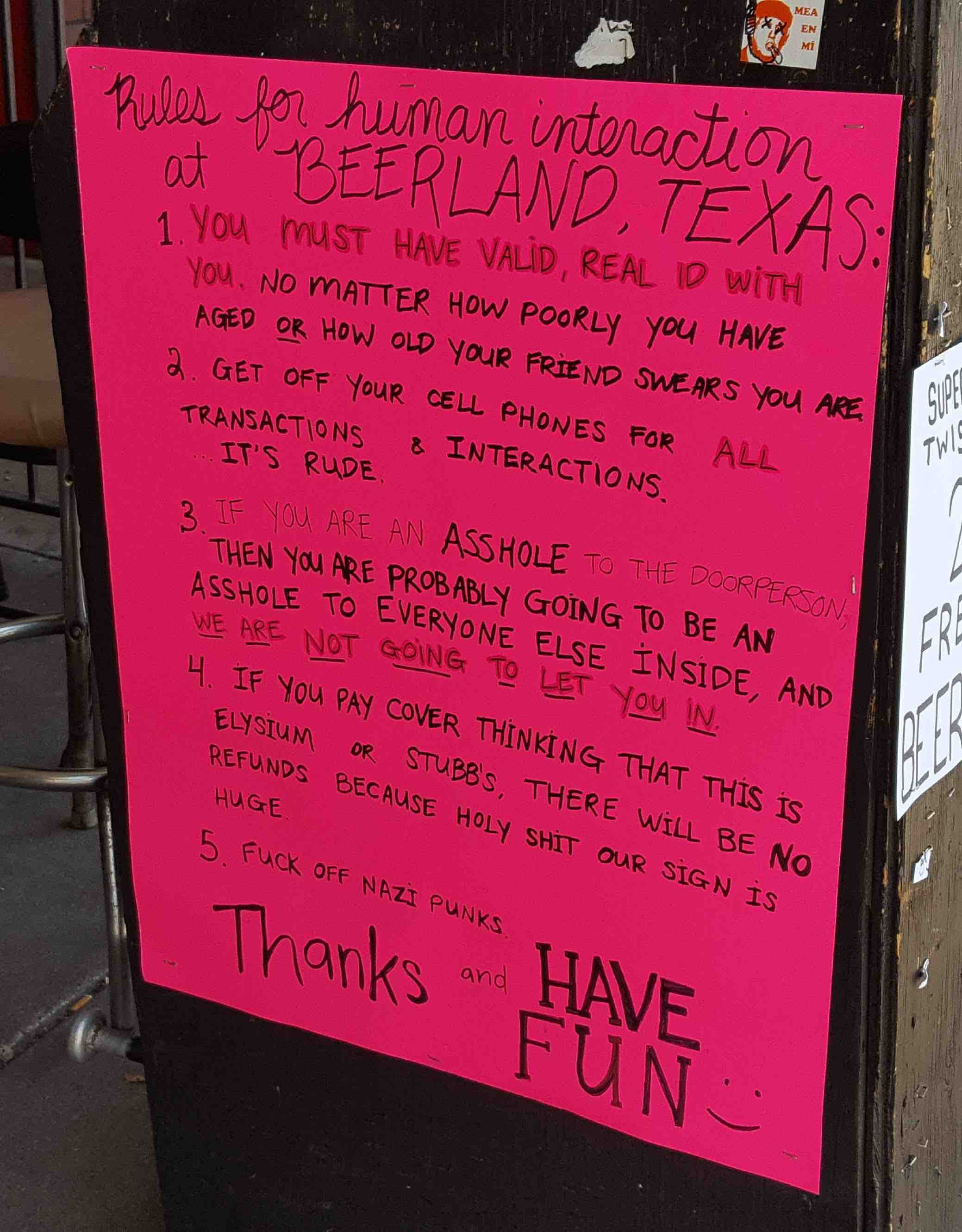 One of my favorite things about SXSW (well, after the music) are the crazy comments that you hear along the way. Here are a few choice selections from SXSW 2018.
---
Hi, we're Dressy Bessy. We won Dumbest Band Name here at SXSW in 1999. This year we aren't even in the top 500. Tammy Ealom of, you guessed it, Dressy Bessy
---
If you're afraid and uncomfortable and concerned about your plot in life, welcome to the fucking club. David Le'aupepe of Gang of Youths
---
He says do you want to be a D.J. I said no. He says do you want to be a D.J. for this much money and I said yes, when do I start. Frank Turner
---
It's the most awkward thing ever. You press play on the recording of yourself and stand there and go "I'm not singing right now" Frank Turner on playing his own music during a DJ set
---
This song is our new single. Thanks to the two of you who cheered. Mike Griffiths of The Himalayas
---
It will be beautiful if you could sing along, it will be awkward if you don't. And maybe you'll sing loud enough that the people in the back will stop talking. Otis Gibbs, um, politely asking the crowd to quiet down
---
We came dangerously close to kumbaya there. Otis Gibbs when the song was over
---
I hope you had a good week and are ready to go back to normal life. Nathaniel Rateliff, late Saturday night
---
Let's toast to it being over. Mike Harmeier of Mike and the Moonpies on Sunday afternoon. It's a marathon not a sprint.
---
Four years ago when we played the Aussie BBQ I was fat and sad. Now I'm less fat and less sad. David Le'aupepe of Gang of Youths
---
Usually I'm pretty drunk and reckless when I play. I'm gonna try to be a little less drunk and reckless tonight. James Alex of Beach Slang debuting his acoustic project Quiet Slang
---
I'm gonna play a couple of songs from that album and then I'm going to walk amongst you and try to sell them to you. Otis Gibbs promoting his most recent album, Mount Renraw
---
Who will buy my broken dreams? Yeah, it's in a HEB bag. Because I care about the fucking environment. Jon Dee Graham pitching his merch
---
I'm gonna play one more. I asked Mojo (Nixon) to come play with me on this one. He said no. That dumb mother fucker. John Doe closing out his set at Mojo's Saturday party
---
We've been invited here to lower the bar tonight. James Alex of Beach Slang after he had to re-start a song
---
I totally forgot the second verse so just sang the third verse twice. I hope nobody noticed. Dustin Welch
---
It's really Bruce's but technically I own half of it. Kelly Willis on recording her latest album at the studio at the home she shares with husband Bruce Robison.
---
Now prepare to have your heads blown off. John Hill of Dressy Bessy preparing the audience for a rock song after the band's opening acoustic ballad
---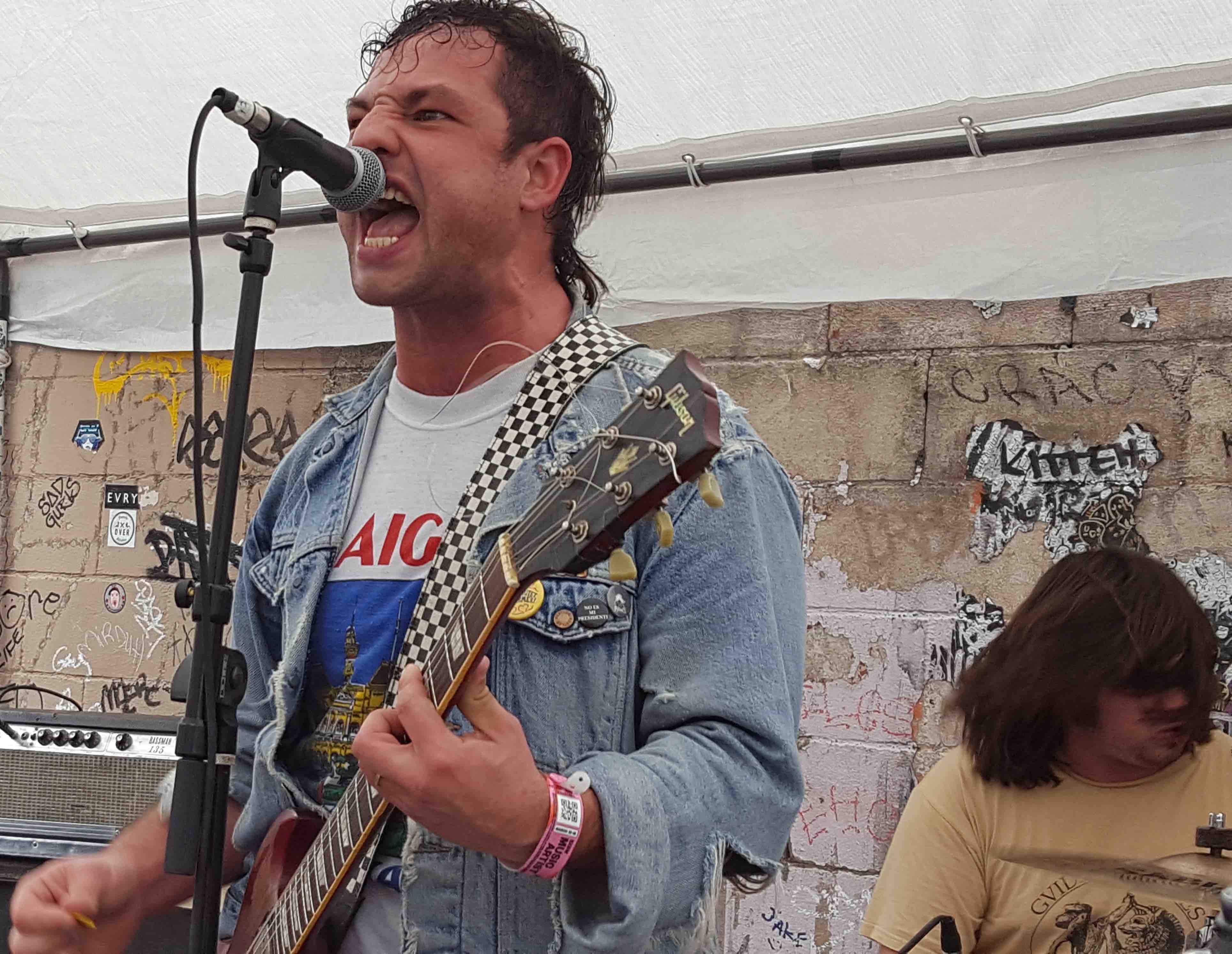 ---
About the author:
Mild-mannered corporate executive by day, excitable Twangville denizen by night.
---