As many before me have observed, there's a fine line between Saturday night and Sunday morning.  Particularly  when applied to many congregations in the American South, that observation pertains as much to the music as it does the time of day.  Many hymns originated in the late 19th century as verses created or borrowed from Christian passages laid on top of the rhythms coming out of the Mississippi Delta.  That's the environment Paul Thorn was brought up in, as the son of a Mississippi preacher.  On his latest album, Don't Let the Devil Ride, Thorn goes back to those roots.
 Many of my favorite songs on the record feature the McCrary Sisters and have a slow burn, complete with horns from the Preservation Hall brass section.  You Got To Move is a Mississippi Fred McDowell number with a church feel you probably haven't heard in other versions.  Love Train covers an O'Jays classic, but slower, and reminds us of soul music's basis in the gospel.  One More River likewise adds a ton of soul to gospel music.  He'll Make A Way starts with Paul himself doing a witness about the love and acceptance of the church, and then slides into a mean blues guitar ballad with harmony by the Blind Boys Of Alabama.
There are some killer uptempo songs, too.  The CD starts off with Come On Let's Go that's right out of Hollywood's vision of tent revival music.  You can picture a crowd of hundreds standing with their hands shaking in the air.  The CD bookends that with the exact same feel on the last song of the disc, The Get Back.  There's also Soon I Will Be Done, where it's hard to decide whether the lyrics or the sweet B3 organ parts are more spiritual.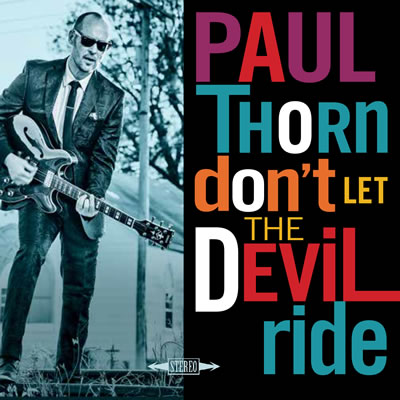 If you're a big Paul Thorn fan and have heard his stories at shows and in interviews, Don't Let the Devil Ride won't come as a huge surprise to you.  If you're just a casual fan, this album of southern Christian hymns may catch you off guard.  Regardless, Thorn has taken his upbringing, injected harmonies from some of the finest singers in the business, then recorded a record in Memphis and Muscle Shoals that's a masterpiece.  For any Twangville resident I can pretty much guarantee you don't have anything like this in your collection.  It's something to experience.
---
About the author:
I've actually driven from Tehatchapee to Tonopah. And I've seen Dallas from a DC-9 at night.
---