With over 3000 showcases in 4 nights, and perhaps an average of 5 gigs/musician, it was of course impossible to see the roughly 600 acts that works out from that math.  So when I say these were my favorites, it's from a relatively small sampling.  Nonetheless, I saw some great music.
 What's Old Is New Again – On Thursday night, at an off-site show, Tim Easton lit up the room with stories and music, finishing with a NSFW, unrecorded tune about famous bluegrass players.  I'll probably never hear that one again. Back 25 years or so, one of my favorite rock and roll bands was The Rainmakers.  Headed by frontman Bob Walkenhorst, they had some killer songs.  Now Bob is back with daughter Una and they're knocking it out of the park with material from a hopefully-soon-to-be-released album.  The real winner for me in this group, though, was John Oates.  He's back with a new album that's full of 20's and 30's era Mississippi Delta tunes, and a stunning back up band.
 Play That Funky Music – Yes, ostensibly the Folk Alliance is about Folk Music.  But late founder Louis J. Meyer knew there were lots of influences in folk and he embraced that idea.  Nothing showed that off better than Southern Avenue, a Memphis-based R&B band that had all the laid-back folkies up dancing.  Speaking of which, Adrian + Meredith throw a little polka into their folk, and danced and sang their way through several of their new tunes.  Finally, I have to give a shout-out to Swedish group Kolonien.  I don't actually know who's in the band because every time I saw them it was a different configuration, including one with several horns and some percussion crammed into a tiny hotel room.
New To the Scene – Lula Wiles, a new three piece group out of Boston (no one is names Lula or Wiles, BTW) wowed me with their musicianship and performance charisma.  Definitely someone you want to see live. Vivian Leva, from the northern reaches of Canada, has a Gillian Welch/Dori Freeman pureness to her voice that perfectly complements the songs that sound like they're from the deepest parts of Appalachia.  Finally, Alaskans Super Saturated Sugar Strings could have taken the funky music title, too.  I've always heard the folks up north aren't so hot on rules, and the music of this band sure takes that to heart.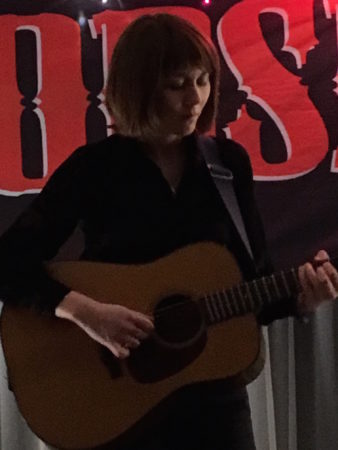 Safe Bets – Some performers just know how to bring it, year after year.  Ana Eggae and Matt the Electrician fall into that category.  Whether it's their musicianship, their stories, or their hosting abilities, they always add something extra anytime they show up to play.  And both of them heartily contribute their skills to a variety of other artists across many showcases during the week.  The safest bet, though, was Molly Tuttle.  Recently voted IBMA Guitarist of the Year, she delivered a great set every time I saw her.  And her clawhammer guitar is a sound to behold.
---
About the author:
I've actually driven from Tehatchapee to Tonopah. And I've seen Dallas from a DC-9 at night.
---