If you've ever traveled to another country, you know the quiz well.
Border control agent: "So, what brings you to (insert country name here)?"
What you may be less familiar with is the variety of quizzical expressions you get from those border control agents when you're traveling to England and your answer is: "an Americana music festival."
Last week I notched my third AmericanaFest UK, and I'm kind of tickled to share with you that when I arrived in London on January 30, before I could even jump in with "I know it sounds weird," the agent cut me off and said, "Actually, it sounds really cool."
Why, border control agent, thank you. It WAS very cool.
And the coolest part – other than just soaking up two days of incredible performances – was seeing the growth of AMAUK and this festival in just three short years. Each year there are more artists showcasing, more venues involved and a few hundred more people in attendance – there's a real community that's formed around this music in the UK, and AMAUK CEO Stevie Freeman and her team deserve so much credit for the tireless work they've put into making that happen.
The conference itself took place over two days in east London, with showcases on the first night and the Americana UK Awards on the second night. Here's a look at my favorite moments from the conference and the showcases – look for my thoughts on the (unbelievable, incredible, once-in-a-lifetime) Awards experience coming in post two!
The Conference
Darlingside was one of my favorite bands I saw at AmericanaFest in the states in 2015 – you know you're in for something good when you follow NPR's Bob Boilen into the venue – and I was pleasantly surprised to see them doing a lunchtime gig during the conference. They performed unamplified as we ate lunch in a fairly small space and I got a front row seat – though that was pretty much the only kind of seat to be had.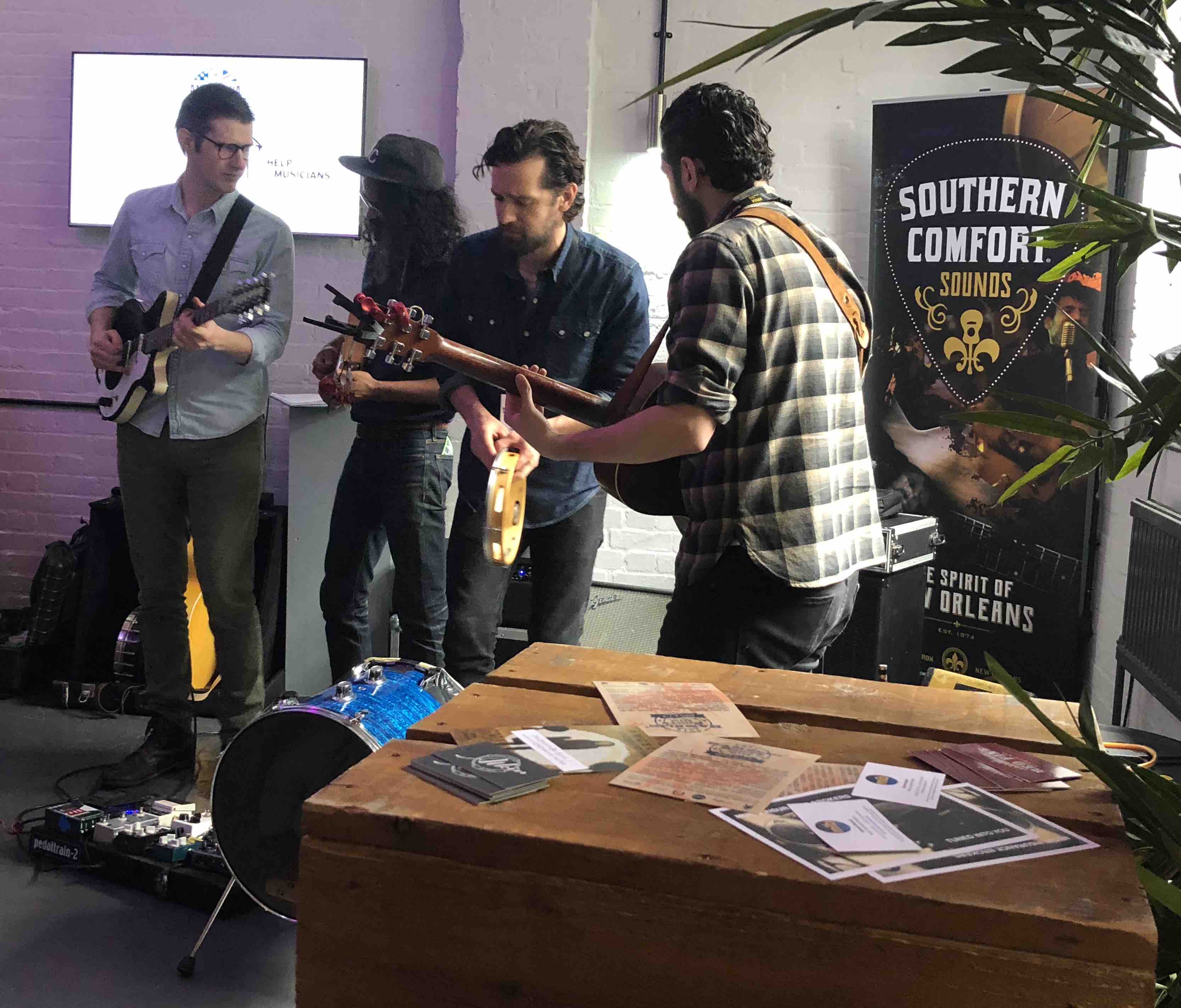 Their voices are so warm, and this small space was a fantastic palate for their sound. They played some new songs, which I loved, but it was the intimacy of the set that bowled me over. I was able to study their expressions as they sang and played and really take everything in, from lyrics to instrumentation. It's these kinds of experiences that AmericanaFest UK affords you – at least right now. With the leaps and bounds this festival has expanded since 2016, I know it's likely a matter of time before it will outgrow moments like this.
Other conference highlights for me include a riveting keynote by Billy Bragg, who's been engaged with AMAUK since the start and whose music I've come to know through this conference. He's such a student of roots music, and even as he talked about broader ideas relating to being a songwriter and musician ("the artist and the truth" was the theme, if I remember correctly) he weaved in music history and musicology in a really accessible way. The thing he said that stuck with me most was "The currency of music is empathy."
On the second day of the conference, Billy Bragg's collaborator Joe Henry was in conversation with noted UK country/Americana DJ Bob Harris. I could've listened to the two of them talk for another hour or two, at least. It was equal parts what Joe had to say and how he said it – he's an engaging speaker and his thoughts on reconciling the legacy of the American south with the music of the American south were interesting and close to home. I also loved learning a little bit more about the project he recorded with Billy, Shine A Light: Field Recordings from the Great American Railroad.
The Showcases
When I sat down to write this post, I sort of couldn't believe that I'd managed this, but here it is: all of my showcase highlights happen to be American artists. I feel sort of guilty, but I promise I'll be making up for it in my next post recapping the Awards show, which was overflowing with stellar performances by UK artists.
I started my night at the Moth Club for Tyler Childers – along with, it seemed, every other human being at the festival. The room was packed, and Tyler didn't disappoint. I love artists who can cut through everything and grip you with a performance using only their voice and guitar – and Tyler is one of the best doing it right now.
And then for something completely different: I headed down the street to Oslo to check out Reverend Osagyefo Sekou. If you're not familiar with Rev. Sekou, you should read this piece he wrote for the Oxford American and this interview he did with Ebony Magazine — he's a theologian and a writer and an activist, and was all three of those things before he started making music. And all three of those things come through in his music, which is blues and soul and funk and rock'n'roll and definitely, oh most definitely, tear-the-roof-off-the-mother gospel music. Word on the street is he'll be playing Memphis sometime this spring and I can't wait to see him again.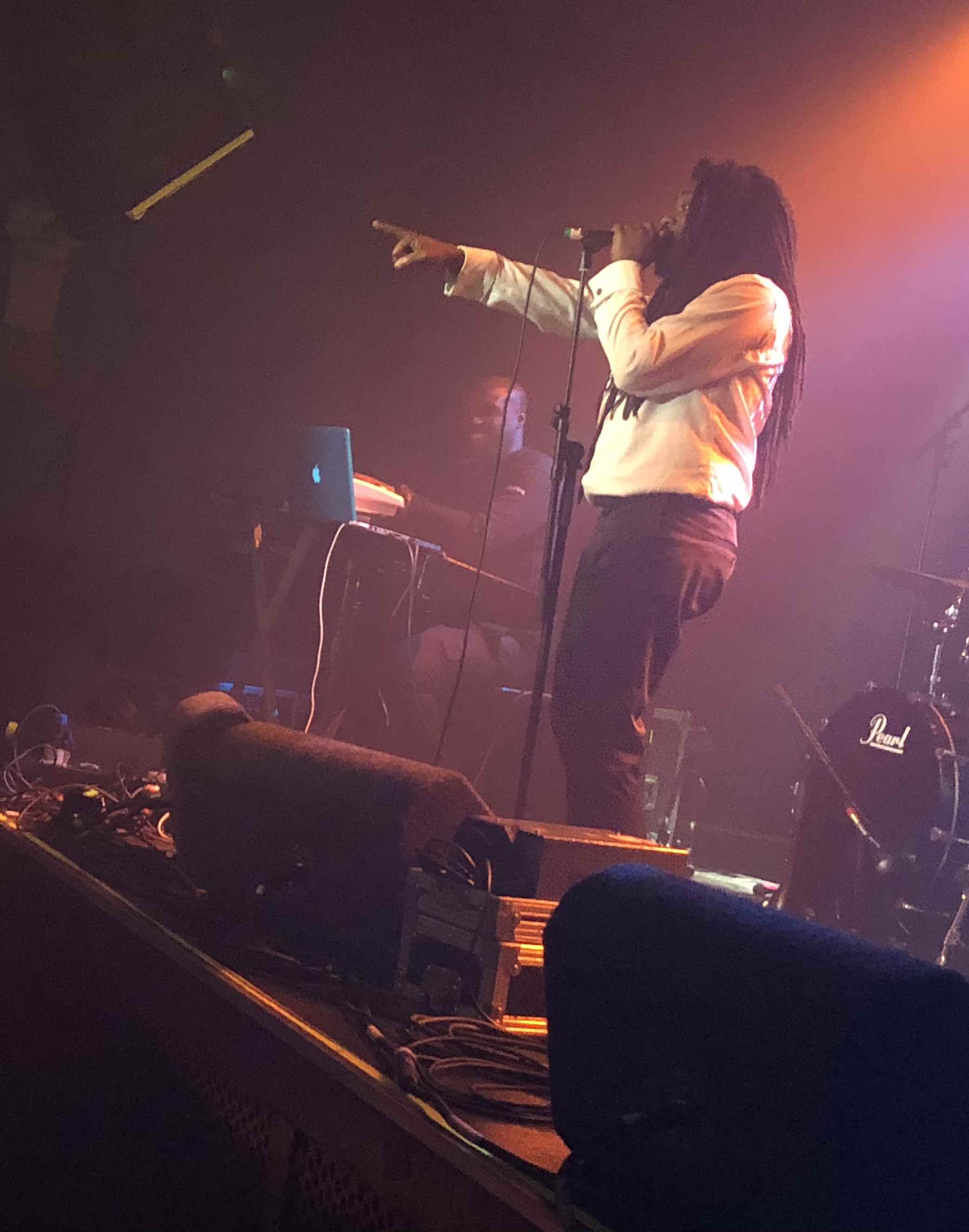 My last highlight of the night was Kashena Sampson, a Nashville-based artist who's originally from Las Vegas. It was just Kashena's voice, her guitar, and an additional guitar player – so in the end, I bookended the Rev. Sekou burning-it-down full band experience with two stunning singer-songwriters. Kashena is a compelling live performer. Her voice has a constant and quick vibrato to it that I find hypnotizing, and she has these dark, expressive eyes that kept me glued on her throughout her set. She was my one truly new discovery of the night, and I'm so glad I made it to her set.
---
About the author:
Elizabeth Cawein is a one-time band nerd who dreamed of writing for Rolling Stone. She's now a music publicist and advocate in Memphis, Tennessee. She's obsessed with Americana and soul music and connecting anything musical to its Memphis roots. You can see how she spends her days by following @signalflowpr and @musicexportmem on Twitter.
---