The term "folk supergroup" seems a little like an oxymoron.  Calling anyone in the folk music business a superstar is probably pushing it.  Having said that, there aren't many musicians in this genre that can draw crowds like Sarah Jarosz, Sara Watkins, or Aoife O'Donovan pull in individually.  So if they do something together, yeah, I guess that's a supergroup.  Best of all, the three of them together have put out their first full-length album, See You Around, and it's more than the sum of the parts.
The record is full of rich, layered harmonies that still leave room for subtle pieces to remind you of the characteristics of the individuals.  Crescent City has a kind of soaring, piercing vocal entry that's one of my favorite O'Donovan styles.  Waitsfield, the lone instrumental cut, is a fiddle tune at its core, and reminds you of the solid bluegrass roots of all three, but especially Watkins.  The title track, a twist on a break-up song, has some of the Jarosz minor key sound.
The vocal harmonizing is really the star of the show, though.  Game To Lose has everyone using staccato phrasing, even with the instrumental fill.  Pangaea has a mystical aura to its interesting choice of topic–the original unified landmass of the world.  The first half of the Gillian Welch-penned Hundred Miles is sung a cappella, before adding in a few instrumental parts.  It's a fine finish to the CD.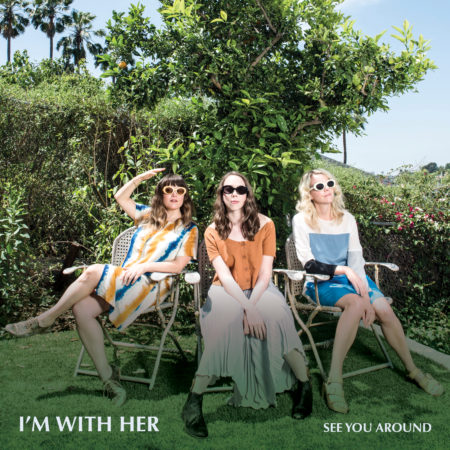 See You Around was recorded with all three women clustered around a single mic, at least figuratively.  The result is a closeness and togetherness to the sound that would be impossible to dub in.  It certainly adds to the magic I'm With Her captures on the record.  If you love vocal harmonies, See You Around is going to delight you.
---
About the author:
I've actually driven from Tehatchapee to Tonopah. And I've seen Dallas from a DC-9 at night.
---