In dance halls and on flatbed trucks across most of this nation there's a style of country music that's still played a lot more than you'd ever guess listening to a radio programmed out of Nashville.  Sure, everyone has a cover of the latest bro' country hit and the obligatory Garth Brooks or George Strait.  But when it's time to get people out on the dance floor, it sounds like a twangy Telecaster, pedal steel, a walking bass line, and boom-chuka drums.  This is what's been the real country music for the last 60 years.  That's exactly what you get on the latest release from Laura Benitez and the Heartache, With All Its Thorns.
 The core of the album are several Bakersfield style shuffles and waltzes, like Easier To Do and Our Remember Whens.  They add a little accordion to Almost the Right One/Casi Mi Cielo to give it that south-of-the-border flavor.  The same instrument adds the necessary rhythm to Something Better Than A Broken Heart so it's a Cajun shuffle.
Just so all the proper veins of country are covered, Benitez, who wrote all the songs, does a murder ballad, In Red, that sounds so classic you're tempted to believe it would have been on The List.  In that same old school line, she goes Appalachian  with a honky tonk dance number, Nora Went Down the Mountain.  Whiskey Makes Me Love You is another honky tonk number, besides being one of the truer lyrical lines I know.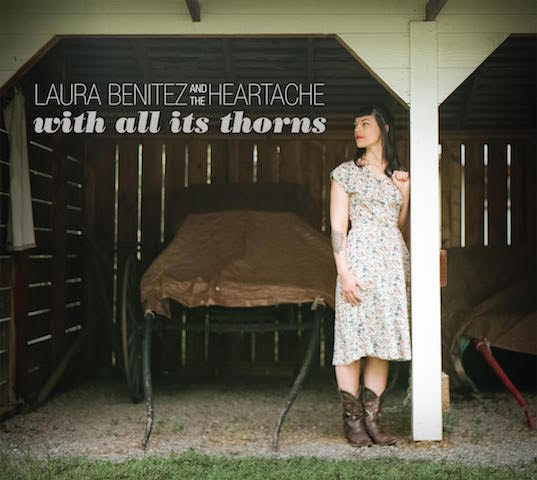 The one exception to the line-up is Ghostship.  It expresses the but-for-the-grace-of-god-there-go-I feeling that just about all California musicians had when they heard about the tragedy.  It's beautiful and haunting and a somber tribute.
Laura Benitez hit the nail on the head with With All Its Thorns.  She and the band are tight, sound relaxed, and ooze authenticity.  You can't go wrong with this record.
---
About the author:
I've actually driven from Tehatchapee to Tonopah. And I've seen Dallas from a DC-9 at night.
---