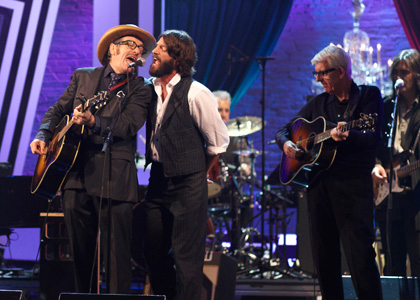 If you haven't been watching the second season of Spectacle: Elvis Costello With… on the Sundance Channel, you've been missing some incredible music television. A storied songwriter in his own right, Costello is able to speak as a peer with a diverse range of musical guests. He deftly explores their musical history and approach to songwriting, unearthing some incredible stories in the process.
But it's the musical performances that really shine. A Jesse Winchester performance that brings a tear to Neko Case's eye and leaves Costello in a stupor. Ron Sexsmith breathing new life into Costello's "Every Day I Write the Book," re-engaging the songwriter with his own song. An all-star band of Costello, Richard Thompson, Nick Lowe, Allen Toussaint, Ray LaMontagne and Levon Helm laying down a rousing version of the Band's "The Weight." And that's just the beginning.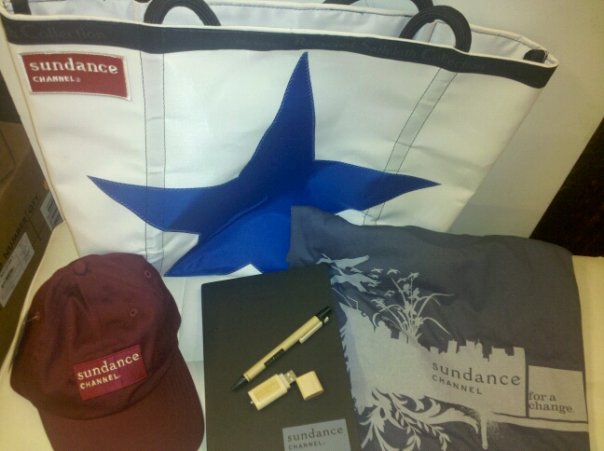 In celebration of this musical extravaganza, we've giving away a special prize pack that includes the complete Spectacle Season 1 on DVD as well as the Sundance Channel goodies pictured to the right. To win, post a comment with the artist that you would most like to see interviewed by Costello. A winner will be selected at random when the contest ends on Wednesday, 20 January 10 at midnight ET.**

Bono and the Edge on their fear of playing cover songs.

Select recent performance featuring Nick Lowe, Richard Thompson and others.
---
**This contest open to US residents only. By participating in Twangville contests you agree to allow Twangville to post the winner's name and city on our web site. We pass along the winning addresses to the artist or promotions company for fulfillment. Twangville will not use your address for any other reason.
---
About the author:
Mild-mannered corporate executive by day, excitable Twangville denizen by night.
---