If you haven't heard of David Ramirez yet, this album might be the call. If you have, this one is a step forward. Unlike the brilliant understated "Fables," "We're Not Going Anywhere" is fleshed out and the arrangements only accentuate the emotions. In particular, Sam Kassirer, Josh's Ritter's piano player, produces and plays piano. He seems to know just how and when to bring the keys in to the song.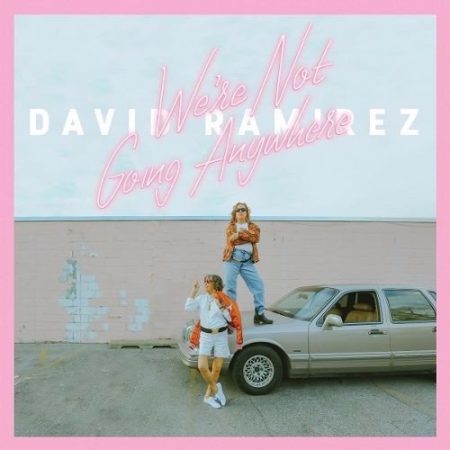 One immediate standout is "Good Heart." Kassirer's keyboard (which sounds like an organ here) and Ramirez' soulful voice seem to play off each other exquisitely. The song builds from the beginning to the end: "Don't say I got a good heart / While everything is falling apart / Aw baby, just admit it / You fell in love with a lost art / Yeah, honey, I'm a ghost town / Pretty charming 'til you come around / Well, once upon a time / People like mine /Used to shine, shine, shine." The break gives another hallmark of the album: 80s keys. Kassirer's electric piano lines are so darn likable.
Another piano-based standout is "Eliza Jane." This tune works its way from simple piano chords along with Ramirez' voice. It's a ballad where Ramirez' is addressing a rural acquaintance and prodding her to give the musical life a chance. He's seemingly convincing himself or someone out there listening to his songs to come and play the songs the same way. He sings "Keep playing that piano  . . . . Did you ever know your hands / can do more than work the land?" and the the guitar solo comes in to cap off the tune. Ramirez sounds assured amongst the more filled out instrumentation.
Another tune that gives a good flavor of the album is the 80s-sounding "Watching from a Distance." The song starts with 80s keyboards and a straight drum sound (could be electronic but I don't think it is). It is propulsive and Ramirez' insistent "I'll be watching from a distance" followed Kassirer's rhythmic piano playing makes this one sound like it could go directly to the object of the song. It's apologetic and persistent. It's as though Ramirez' takes some solace from his own perch as "The clock on the wall / the cheap seats in a concert hall." He repeats the chorus over and over and you can't help but believe him.
Ramirez has certainly taken a step forward with this album. Tunes are more complexly arranged and while I might miss some of the simple acoustic nature of the last album, the arrangements here are so intricately woven together, that I can't complain. It's like I miss the old but love the new just the same.
---
About the author:
Jeff is a teacher in the Boston area. When not buried correcting papers, Jeff can be found plucking various stringed instruments and listening to all types of americana music.
---