Iron & Wine (the moniker for singer/songwriter Sam Beam) had been toiling away in obscurity until his demo tapes fell into the hands of a Sub Pop. Sub Pop then released the recordings as is for what became "The Creek Drank the Cradle" in 2002. Sam Beam made hushed and thoughtful recordings highlighted by warm vocals. The tunes were poetic and the melodies were delicate and shimmering. The arrangements were a simple background for the vocals and simple songs to shine through.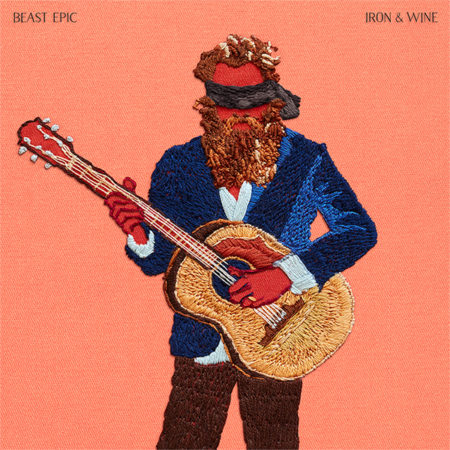 Beam brought Iron & Wine to the opposite extreme with his complex arrangements on "the Shepherd's Dog" in 2007. That record was a departure and jarring to many of his early fans. "Kiss Each Other Clean" and "Ghost on Ghost" had more complex arrangements as well that often obscured the intimacy of Iron & Wine's early recordings. When played solo acoustic, Beam's songs still captured the same beautiful intimacy that early fans often missed.
After two collaboration albums, Beam releases his newest "Beast Epic," a return to early instrumentation and form. Beam's songs are intimate again with occasional percussion and expert guitar picking and beautiful vocals. The first single, "Call It Dreaming" signals a lilting Americana aesthetic that really accentuates the beauty of the song. It's not a retreat as percussion, piano, piano and gentle strings are still present.
The beautiful "Bitter Truth" uses a swinging brushed percussion and piano to great affect. Sam Beam's vocals "some call it walking blues /some call it bitter truth / some call it getting even in a song." The descending chords are a beautiful canvas for a song that sticks with you like a classic Iron & Wine track from his early period.
Many of the track on "Beast Epic" are growers like Iron & Wine tracks of old. They demand a close ear and reward repeated listens. I must admit that I wasn't sure that Beam would come back to this intimate warm instrumentation of Iron & Wine would return but here it is. The track "The Truest Stars We Know" is a gentle melody punctuated by piano and embodies the beauty in a simple song.
---
About the author:
Jeff is a teacher in the Boston area. When not buried correcting papers, Jeff can be found plucking various stringed instruments and listening to all types of americana music.
---