Steve Earle is back. He may have never really left, but "So You Wannabe An Outlaw" stands beside his best albums (and there are many). It sounds like his classic period from the 80s up through his classic Transcendental Blues in 2000 (without the early 90s records during his descent into drug addiction). Earle has never really left, but has never really reached those heights since. Until now.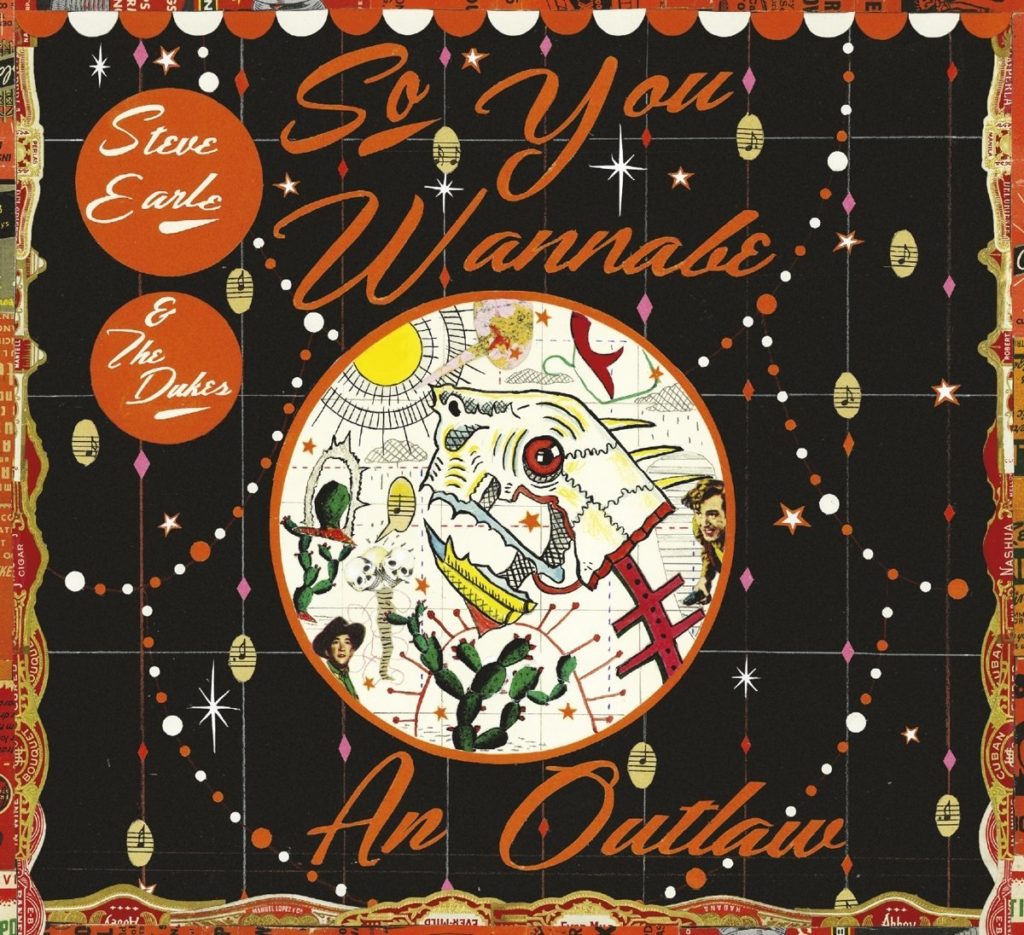 Enter Earle's new classic "So You Want to Be An Outlaw" distills all of his best work into one album. It's an outlaw country record, insurgent country, alt-country, roots rock, acoustic, sprawling gem that truly brings together Earle's talents onto one CD. It fits just like a favorite sweatshirt. As a huge Steve Earle fan, it takes a lot to say that I would not be at all disappointed if he played all of these songs at a show and nothing else, but it's true. It's one of the few albums that I've listened through from beginning to end the first time I heard it.
Unlike Earle's previous album, the country blues influenced "Terraplane," "So You Wannabe An Outlaw" capitalizes on Earle's strengths as a songwriter throughout his career. He begins with the title track and country legend Willie Nelson takes over singer the second verse. In light of Earle's heroin addiction and 60 day imprisonment, the singer is one songwriter who truly knows what it actually means to be an outlaw. The conversational lyrics and snarling guitar set the tone for the record.
"Firebreak Line" is another irresistible roots rocker. It reminds me of the story song "Ben McCullough" in its lyrical intensity. The tale of firefighters is described by the narrator over a snarling voice and guitar: "Well I'm a wildfire fighting fool / From the Yellow mountain hotshot crew / I can swamp and fell / I can walk through." The lyrics match the fast and furious mindset of a fire crew. Earle manages to capture dialogue that rings true and rolls off his tongue.  Its a signature tune that only Steve Earle could pull off.
Earle has two other instant classic solo acoustic tunes. They remind me of "My Old Friend the Blues" from his seminal roots rock album "Guitar Town." The first is a story of a highly dysfunctional family in "News from Colorado." The simple fingerpicked guitar, pedal steel, and Earle's heart wrenching lyric drenched in longing lend this song the kind of hardscrabble sound that only Earle can deliver. On the more romantic side, "The Girl on the Mountain" is just as spare and Earle's soulful lyrics/vocal and tear jerking fiddle arrangement make this song one that demonstrates a deep felt loneliness.
"Looking for a Woman" is vintage Earle. It has that dirty electric guitar and a catchy hook. Steve commands the song and the band swings right through. The acoustic country sound of "You Broke My Heart" shows yet another side of Earle's formidable talents as a writer, performer, and vocalist.
Steve Earle's record is varied and remarkably consistent throughout all parts. It's a veritable set list of styles of country used throughout his career, and Earle has managed to imbue each with authenticity, loneliness, anger, and frustration – whatever emotion the song needs. It's a remarkable achievement for a singer/songwriter of Earle's stature to achieve such heights again. But this album shows that he's most definitely still got it.
---
About the author:
Jeff is a teacher in the Boston area. When not buried correcting papers, Jeff can be found plucking various stringed instruments and listening to all types of americana music.
---