Catching up on missed music is not what I thought that a newborn would allow me to do this summer. But the late nights, and the missed sleep between feedings, seemed only like a time when I would just wish I could sleep through the night. But there I was, 3:30 AM on a Tuesday, wired and I started poking around about the best music of 2016. That's where I stumbled upon Courtney Marie Andrews and her latest release "Honest Life."
Since the birth of our second child, and first daughter, has determined that the Mrs. and I won't make it to Newport Folk this year, I've surprisingly been able to find emerging artist Courtney Marie Andrews. At age 26, you might think that Andrews is just getting started, but she actually has released six albums.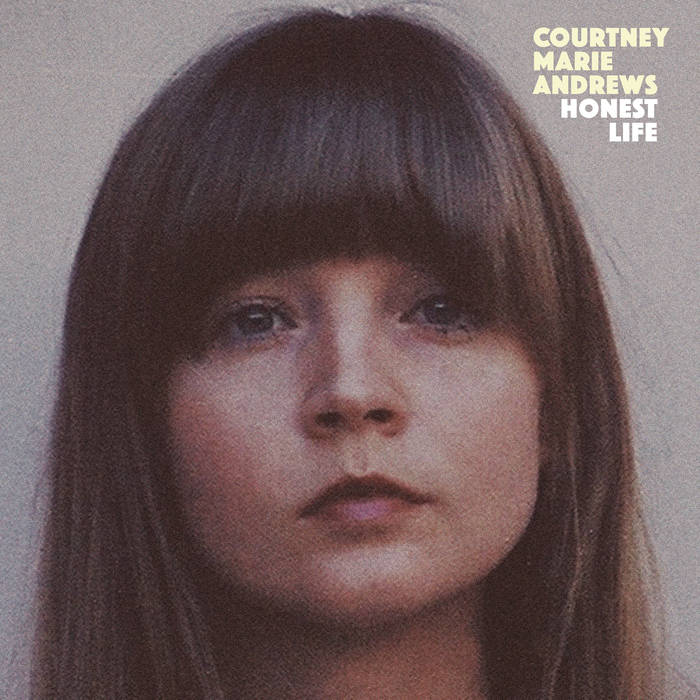 The newest, "Honest Life," has a decidedly classic singer/songwriter feel to it. Andrews has a striking voice who draws comparisons to Joni Mitchell. Her more spare acoustic tracks and highly emotional songwriting only deepen the comparison Mitchell's "Blue." In particular, her track "Not The End" is a beautifully written song where the narrator can't quite accept that the end of a relationship is at hand. "I'm so far away now / In this empty hotel room / Trying to dream up every memory / can feel closer to you." With its descending baseline and heart wrenching lyrics, the tune perfectly captures the feeling of lost love, a focus of the album.
On the other hand, Andrews has also created a bit more of a blue-eyed soul groove. Songs like "Rookie Dreaming," "Irene," and "Put the Fire Out" bring Tift Merritt to mind. Each of these three tracks are catchy and more fully arranged. They are vocally centered and catchy. "Irene" directs aphorisms at the audience, the aforementioned Irene, throughout the song. In addition to the catchy tune, it makes space for Andrews' band, who are tight and feel very natural. "Put the Fire Out" is another song that feels like it was taken from the 70s and relies on a catchy chorus; the band is indispensable to create the exact mood of the song. From piano solos to restrained by melodic guitar work, this band allows the music to breathe and come to the fore. It feels like the Alabama Shakes for the golden age of singer/songwriters, an update of a classic sound.
From there, Andrews pushes into country on a series of tracks with the introduction of pedal steel into the mix. Tracks "How Quickly Your Heart Mends" and "Table for One" embody this country-leaning spirit. Both tracks feel authentic and lived in like a favorite pair of beat-up jeans. In "Table for One," Andrews' vocal brings Iris Dement to mind. They show two sides of the album, heartache and the life experience of a traveling musician. These themes appear throughout the album. "How Quickly Your Heart Mends" is another heart wrenching tune that uses honky-tonk piano and a country shuffle to show the pain of the end of a relationship and the love interest who has moved on. It's acutely observed and musically heart-wrenching.
The title track, "Honest Life," brings the elements together. It seems very honest in its intentions and slows down the groove for the band, so Andrews can explain her humble intentions and how difficult that task can be to lead an honest life. It's so simple and yet so accessible. I can picture the narrator in a country cabin in the woods making these observations on a front porch or in a cabin room clad in knotty pine. It seems almost impossible to find someone without such a direct life experience to deliver the message but Andrews manages to do this, a 26-year-old songwriter, with deep conviction and understanding.
I'm still exploring Courtney Marie Andrews back catalog (2 albums, unfortunately 3 others are out of print). With an album this strong, she honestly doesn't need anything else to make her mark. "Honest Life" is brilliant record and each track has been crafted from melody, lyrics, arrangements, and particularly to vocals. Andrews has mentioned her admiration for Aretha Franklin. No one compares to Aretha, but Andrews has her own set of powerful pipes that lend true emotion to the tracks and show her care for the songs. If this record is any indication, Courtney Marie Andrews has a bright future and has shown amazing growth in a relatively short life. I won't be missing her as she moves forward.
---
About the author:
Jeff is a teacher in the Boston area. When not buried correcting papers, Jeff can be found plucking various stringed instruments and listening to all types of americana music.
---