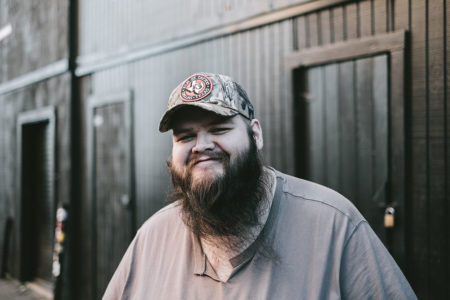 After gaining much acclaim on his previous release, "High on Tulsa Heat", John Moreland has released a new album of tunes that raises an already high bar even further. This time around he eschewed the solitary acoustic Folk style of previous work that put full focus on the lyrics. His new effort, "Big Bad Luv", brings in a full band and creates a rock album. What he delivers feels like a quintessential driving record. It is not one that makes you want drive 100 mph giving the finger to pedestrians (keep your Steppenwolf handy if that is your bag). Instead, these are the sort of songs that make you want to hit the back roads and end up somewhere between gone and lost. The lyrics are still poignant, but the compositions are even more rich. As Moreland says in the opener "Sallisaw Blue" you will be "Down for the count and along for the ride".
The songs have a mix of tempo but the linchpin of most of them is the Keyboards contributed by Rick Steff of Lucero, which give many of the songs just a twinge of The Allman Brothers. A perfect example is the song "Love Is Not an Answer". The songs start out softly and adds layers until the end of the song. The song is a reflection on how we make the simple complicated when it comes to relationships. "Love is not an answer. I don't need an answer. I need you." The gentle rasp of Moreland's voice really punctuates the songs. It adds an earnestness to the lyrics on song such as "It Don't Suit Me (Like Before}" when he sings "I thought we'd be grinding all our gears until we're giving up the ghost and grieving from the ties that we'd undone". The earnest folk tunes are not absent from this group of songs. In fact, "No Glory in Regret" may be the most impactful song on the album.
"Big Bad Luv" is Moreland's second release on 4AD records and he will certainly be enhancing his reputation with a heavy touring schedule this Summer.
---
About the author:
Chip and his family live in Birmingham, AL. Roll Tide!
---