A really good stew is hard to describe.  I mean, on the surface, it's easy.  Some meat, some vegetables, in a broth, cooked for a while.  But it is so much more than that.  Think of the difference between a Louisiana gumbo, a California cioppino, and a New England chowder.  They all have seafood, and the similarity just about stops there.  What they're all about is the spices and seasonings and layering of flavors.  In that respect, the latest album from Blue Ridge Mountain based The Steel Wheels, Wild As We Came Here, is just a folk music stew.  But it is so much more than that.
Several of the songs on the album are protest songs, in a subtle sort of way.  Wild As We Came Here tells the story of a man so angered at the desecration of land by energy companies that he starts bidding the price up at an auction, even though he's financially bankrupt.  Till No One Is Free is a commentary on today's political climate where they ask, "is there a new way to scream and shout", because soon we'll be "locked up…till no one is free."  In that same vein, Scrape Me Off the Ceiling is a description of how many people feel about any news coming out of Washington these days.
The record also has its share of love songs, of one variety or another.  To the Wild is a statement about love of nature in today's complicated society.  Take Me To the Ending is a belief that the love of music will endure.  My favorite of the bunch is Sing Me Like A Folk Song, "love me like a lullaby, live me up before I die."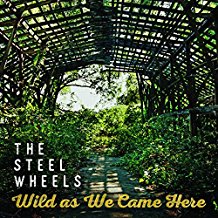 The band's name is a reflection of the positive gains society has seen from industrialization, but also a homage to their Mennonite upbringing.  The album is a combination of that optimistic view forward while keeping anchored in one's roots.  If you're a fan of folk music and/or string bands, Wild As We Came Here is a real keeper.
---
About the author:
I've actually driven from Tehatchapee to Tonopah. And I've seen Dallas from a DC-9 at night.
---