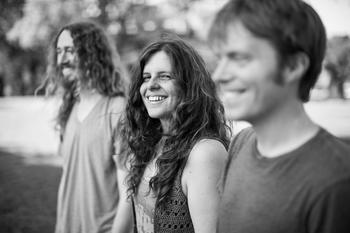 Quiles and Cloud originally formed as a duo. Maria Quiles (Vocals and Guitar) and Rory Cloud (Vocals and Guitar) began playing together in the Bay Area in 2011. Since then they have added Upright Bass player Oscar Westesson. Their new album "Shake Me Now" is being released this week and will hopefully be the launching pad they deserve. Although it is their third album, it is the first to be released by Compass Records. The label's founder and Banjo virtuoso Alison Brown produced the album. That, in and of itself, is a ringing endorsement from someone who has a track record of both finding new artists and creating great music.
Along the continuum of Bluegrass styles they fall solidly in the NewGrass camp, due to the diversity of styles they employ. "Shake Me Now" draws upon Bluegrass, Folk, Blues and even a little Jazz. Quiles' vocals have a smooth and slightly Soulful sound that sounds at home no matter the tempo or style of the song, while Cloud harmonizes in perfect syncopation. They are a Bluegrass version of Buckingham Nicks. The album consists of mostly original tunes. However, it includes three excellent covers "Deep Ellum Blues", anther traditional tune "Worried Man Blues", and Bob Dylan's "You Ain't Goin' Nowhere". The production of the album yields a sound that is timeless. This is an album that would have been comfortable in any of the last six decades, which serves to make it completely modern.
They are well traveled touring musicians and it shows. Theirs is a sound that has been honed and polished to the point that it is seamless. They will be hitting the road in support of the new release and will likely be playing to an expanded audience as they establish themselves in the Americana scene. There is simply no way the lush sounds on "Shake Me Now" can avoid acclamation.
---
About the author:
Chip and his family live in Birmingham, AL. Roll Tide!
---