There will never be another John Prine.  But like the jam bands that came after the Grateful Dead, if you're open to the sprouts that come up in the field they plowed, you can experience some delicious flavors that may not be the original, but they're tasty nonetheless.  John Craigie is one such Prine varietal.  Recorded in a living room in Portland, OR, Craigie's latest album No Rain, No Rose, shows off a combination of wit and songwriting experience.  At some point in the record, you start to wonder why you haven't heard more of him before.
The opening cut of the CD, Virgin Guitar has a mainstream quality that goes way broader than the folk classification it will end up in on the various music services.  Similarly, Live With Less and Savannah are tunes that have already crossed the catchy threshold.  I Am California is more of a solo effort with a line that's straight out of a George Jones hit, "you tried to drown your sorrows, you shouldn't have taught them all to swim."  There's also a sweet, folky version of the Stones' classic Tumbling Dice.
Other songs on the record lean a little more to bluegrass.  Broken and Michael Collins feature banjo player Tyler Thompson and Trout Steak Revivalist Bevin Foley on fiddle.  At the other end of the spectrum, Bucket List Grandmas goes electric and has the perspective of pessimists everywhere when Craigie sings that "every light is surrounded by darkness."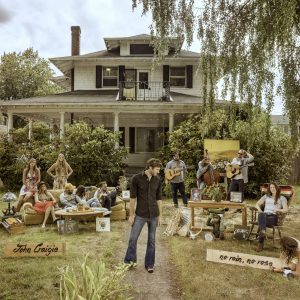 No Rain, No Rose is purportedly an ode to Craigie's home town of Portland.  But it's really just a canvas for John to paint his art.  If you like a little humor and intellect in your folk music, this is an album and artist to check out.
---
About the author:
I've actually driven from Tehatchapee to Tonopah. And I've seen Dallas from a DC-9 at night.
---