Having given a bit of flavor on the overall vibe of the annual Folk Alliance International conference, it's time to rewind through some of my favorite sets of the week.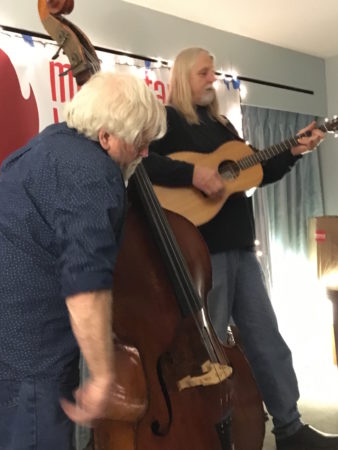 Setting A High Bar A lot of performers at FAI have been making a living playing music for decades.  They're not lucky, they're just good.  Trout Fishing In America is celebrating 40 years of touring together.  Keith Grimwood and Ezra Idlet are still a well-oiled machine whose stories, and the songs they inspire, are somehow just what you'd expect from seasoned road warriors.  Eliza Gilkyson was one of the key speakers on this year's topic of Forbidden Folk – Celebrating Activism in Art.  She also put on a sweet show Thursday night with surprise guitarist Bill Kirchen.  And while you were marveling at how well they sounded together, Gilkyson noted that most of the songs she was doing were ones Kirchen had never even heard before.
Music From the New Album  It's not unusual for groups at Folk Alliance to debut some new songs.  Front Country took that to the extreme by playing nothing but new material for their first live, public appearance in an official showcase Thursday night.  Judging from those 5 songs, mark April 4th on your calendar for when the new record drops.  Similarly, The Railsplitters went all out with the new stuff in their private showcase Wednesday night.  Don't know when it comes out, but look for it soon.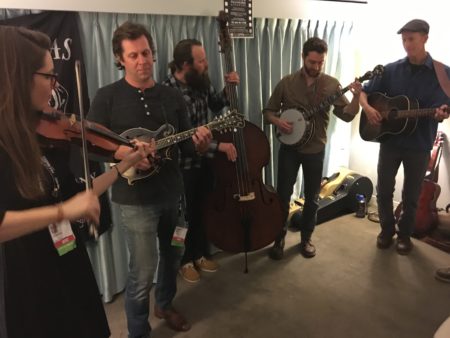 Who Were Those Guys  The official showcases, aka the public events, tend to have a much wider variety of attendees.  In rooms that can hold a hundred people, sometimes more, you can sample more variety than in the private showcases where you have to push your way into a hotel room that seats 12.  Nonetheless, it's still sometimes surprising to walk out of a set and hear people marveling at how they'd never heard of the group before, but they were *fabulous*.  Such was the case when I left Trout Steak Revival, as well as after Lindsay Lou & the Flatbellies.
Best Set Of the Conference  For me, two performers really stood out as I think back over the 3 days I was there.  Phoebe Hunt and the Gatherers is a Brooklyn-based version of Hunt's previous Gatherers band.  The inclusion of accordion in the mix adds a Cajun accent that really spices things up.  I've always like the song, Good Blood, but now it's just the best.  Also with close ties to Austin, High Plains Jamboree is out ahead of their first album.  A mix of swing, bluegrass, and old-school country, it's going to be a winner.  And they get the award for best song title of the conference, I Made the Bed And You Lied In It.
---
About the author:
I've actually driven from Tehatchapee to Tonopah. And I've seen Dallas from a DC-9 at night.
---