Back from the 2017 Folk Alliance International conference and nearly caught up on sleep (more on that later), let's start coverage with a look at the overall event.  Not surprisingly, there are seminars on the music business, musical performances, and an awards show.  There are also a lot of things catering to the musicians themselves, whether amateur or profession.  The Music Camp has a full agenda of musical teachers giving classes on technique and ready to help anyone who asks.  There are medical, dental and vision clinics where musicians can get free health care.  This is really the only festival/conference I've ever been to that clearly caters to the musicians as much or more than to the listening public.  But that in turn has created an event second to none for music fans.
The annual awards included a couple of Twangville favorites: Sarah Jarosz received album of the year honors for Undercurrent, and Parker Millsap was selected as Artist of the Year.  As you might expect with a conference with a theme this year of "Celebrating Activism In Art", there was a lot of opportunity to hear political statements with musical overtones and vice versa.  The keynote speaker was Billy Bragg.  Ani DeFranco and Eliza Gilkyson were also prominently featured at the event.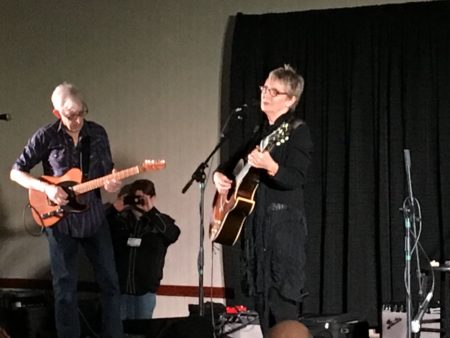 There's also music being performed.  Wednesday through Saturday night from roughly 7 pm until 11pm FAI has 9 ballrooms/meeting rooms in the main hotel dedicated to official showcases.  With a new set every 45 minutes or so, it adds up to almost 200 groups to choose from, all for $30/night for public tickets.  That's just the tip of the iceberg.  For a couple of hours in the afternoons, and then each night starting at 10:30 and lasting until…well, late (or early, depending on your perspective of 3 am) there are the private showcases for conference attendees.  These private showcases happen in hotel rooms.  Sometimes the beds have been cleared out and chairs set up, allowing upwards of 30 – 40 people to see a band who may be filling a 500 seat club the following week.  And in some cases, they haven't removed the beds and the audience is limited to maybe a dozen, with a few more standing out by the doorway.  Intimate doesn't even begin to describe those sets.  Prime time on Friday night of 11 pm I counted 48 simultaneous private showcases.  Do the math and there are probably 1000 sets you can choose from over the 4 days.  How's that for music overload?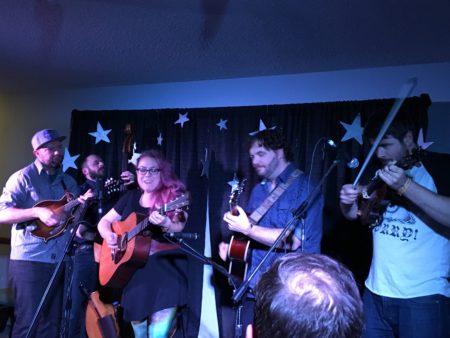 Folk Alliance International has done a wonderful job of embracing the wider community of musicians who make up the folk and acoustic music industry.  Progressive, indie, alternative folk acts like Front Country or Lindsay Lou & the Flatbellies are as at home as traditional acts like Barbara Dane or David Olney.  The performers themselves range from high school kids just getting their feet wet to road warriors who first appeared in the 60's.  Diversity and discovery aren't just buzzwords here, they're a philosophy that drives one of the most forward looking organizations in the music business and well as perhaps the best music event you can attend, year after year.
---
About the author:
I've actually driven from Tehatchapee to Tonopah. And I've seen Dallas from a DC-9 at night.
---