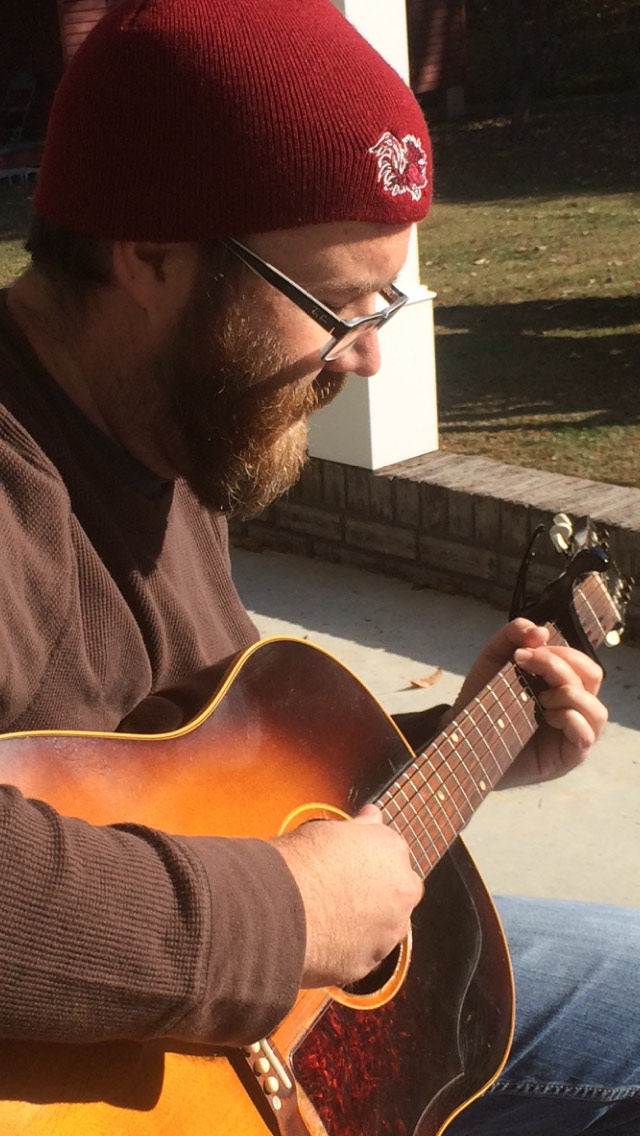 Well, here we are… Thanksgiving 2016… which means we're celebrating 11 years of Twangville's existence. For as long as I can remember, I've been writing a Thanksgiving toast each year to thank our contributors, our community, and the artists who give us something to listen to and write about. Without someone to make the music, we'd have nothing to share. Without you gracious readers, we'd have no one to share music discovery with. All to say, thank you for being a part of this community.
Last year, with a heavy heart we celebrated the life of a dear friend and Twangville emeritus member, John Anderson. This year and for some years to come, the plan is to shine a light on our amazing contributors one year at a time to help you get to know them like we do as a community of writers.
So this Thanksgiving, let's raise a glass to Todd Mathis. Todd joined us in the Spring of 2007 thus marking 9 years with Twangville. Not only does Todd contribute music reviews, he's a practicing musician. You might know him as singer and guitarist in Columbia, South Carolina's American Gun, some of his solo singer-songwriter pursuits, or as part of Jangly Records. Or, you might know him in the Twangville community for his contributions to the Duck Tape Saves Lives series or for his thought-provoking RIYL comparisons that cap off his music reviews.
Todd Mathis, Thoughts & Prayers (demo)
Interview with Todd Mathis
[Twangville] What's your first music memory?
[Todd] It has to be learning to play the piano with my grandmother. She was a piano teacher and she taught folks throughout the small, rural community I grew up in.
What's the first music you ever purchased?
The Oak Ridge Boys 45, Elvira. I don't remember what the b-side was.
First concert?
Charlie Daniels, where he played a golden fiddle as the part of the devil in Devil Went Down to Georgia.
What got you into playing music?
Again, this would have been my grandmother, as I took piano lessons from her from age 5-12. But my whole extended family loved music and sang in church choirs, played piano/organ, etc. so I'm sure they all had a small part. I stopped piano lessons when I started junior high and started guitar lessons to "rebel" against the piano.
When you're not playing your own music, what's your favorite cover song?
That's a tough one. As far as a cover song to perform, there's a ton of them. Goodtime Charlie's Got the Blues by Danny O'Keefe has been a staple for years in acoustic settings and with a full band. American Gun, my old band, did a one off tribute show to the Afghan Whigs back in 2011 that was a ton of fun as well.
What artist would you put into the Twangville hall of fame?
I'd have to go with Dwight Yoakam. He's got a lot of twang and some rock swagger.
What artist would you consider a guilty pleasure?
I have 3 daughters and they love Taylor Swift and I actually don't mind her. I think the writing and production of her last album 1989 was brilliant (and much better than Ryan Adams' version).
What five albums would be on your "desert island" list?
That list changes seasonally, but today, I'd say:
Neil Young/After the Goldrush
Afghan Whigs/1965
Dwight Yoakam/If There Was A Way
Daniel Lanois/Belladona
Willie Nelson/Spirit
What's the best American city to see music in?
I'm guessing Nashville. Everyone goes through Nashville, rock or country, and I've seen some of my top shows there including Oasis, Cory Branan, etc. Asheville, NC is also a great city and I've seen tons of great shows there as well.
Any local bands from your city people should see?
I'm in Columbia, SC (a college football town) and I would highly recommend Susto, who are right down the road in Charleston. Here in Columbia we have a slew of great songwriters in Chris Compton, Zach Seibert, Daniel Machado, and many others. Those guys don't tour a lot, but they are definitely worth checking out. We've also got a killer jazz scene here in Columbia. (colajazz.com)
What's the best way to support musicians?
Buy their music. Buy it on Bandcamp, I-Tunes, wherever, just buy it. Also, go to live shows if you can. I know it's harder when you have kids (I'm a prime example) but it means a lot to see people in the seats. Also, tell your friends/family about that great artist you've just discovered. Personal recommendations go a long way.
What's your favorite Thanksgiving dessert?
Ben & Jerry's pumpkin cheesecake ice cream has become a fall staple for me, but on Thanksgiving day, I'm all about the dressing my family makes as appetizer, main course, and dessert.
Best way to cook a turkey?
Oven baked.
Best album of 2016?
Another tough one. I've probably listened to Pete Yorn's latest more than anything this year, but I've also really enjoyed Daniel Lanois' latest entitled Goodbye to Language, Sturgill's latest, Beyonce's Lemonade, Eric Bachman, Nick Cave… There's so much good music being put out all over the map if you have the time to find it.
What's the best tailgating food? Drink?
I'd say go with fried chicken and a light beer so you can hang throughout the day. You don't want to peak too early.
Spurrier or Muschamp?
I definitely liked Spurrier's attitude, but I'm pulling for Muschamp these days as his heart seems in it to win it.
What would you like people to know that they might not know about you?
I work daily at trying to be kind to my fellow man and be a better human being all around. I strive to take the high road while also not compromising my beliefs.
Thank you, Todd. Twangville is better because of you. Happy Thanksgiving to your and your family. 
---
About the author:
Washington, D.C. area web designer by day. Music is my muse. I host Twangville's weekly Readers' Pick.
---